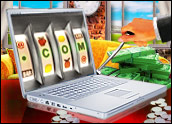 Newly passed gaming laws have spurred an exodus of UK-based Internet companies from the lucrative United States market, with major sites selling off or shutting down their operations.
Sportingbet said it agreed to sell its U.S. operations to Jazette Enterprises, an Antigua-based corporation, for US$1. The sale enables Sportingbet to write off some $13 million in debt and to avoid what would have been a $14 million shutdown process involving thelayoff of some 500 employees.
The sale comes about two weeks after Congress surprisingly passed the Unlawful Internet Gambling Enforcement Act as part of a larger homeland security bill. The act makes it illegal for credit card and money transfer companies to accept payments to gambling Web sites from U.S. residents. Though it doesn't ban gambling directly, the legislation effectively shuts down the U.S. market for legitimate Internet-based sports books and virtual casinos.
Sportingbet said it had stopped taking bets from the U.S. early Friday, the same day President Bush was expected to sign the Act into law. Sportingbet said it would turn its attention and resources to its European and Australian operations; the company may seek a merger partner to help it survive without one of its most lucrative markets.
"We are saddened to have to dispose of such a fantastic business as a result of political actions in the U.S. Congress," Sportingbet's acting CEO Andrew McIver said in a statement. McIver took over last month after U.S. authorities arrested then-CEO Peter Dicks on state gambling charges issued by authorities in Louisiana.
Shifting Sands?
Separately, WorldGaming said Friday it had entered the UK equivalent of bankruptcy protection after leaving the U.S. market. WorldGaming had relied on American bettors for some 95 percent of its annual revenue. A third company, Leisure & Gaming, also sold off its U.S. operations for $1, avoiding $6 million in shutdown costs in the process.
PartyGaming and 888 Holdings, two other gambling sites, announced their own decisions to shut down U.S. operations immediately after Congress acted earlier this month. According to several estimates, some $7 billion in market value has been erased from UK gaming companies' value since the legislation passed.
The Sportingbet sale, while a purely bookkeeping measure from the point of view of UK stock analysts and investors, may indicate a shift in the online gambling world, with privately held and largely unknown Caribbean-based virtual casinos willing to step in and take risks that publicly traded companies cannot expose their shareholders to.
Jazette agreed in making the purchase not to move into non-U.S. gambling markets for at least two years.
Other private casinos continue to operate in the U.S. despite the new legislation.
Their defiance may well lead to an international standoff over the rights of U.S. residents to place bets at offshore casinos. Operators of Caribbean-based online casinos have complained in the past about a double standard within the U.S., where many states allow betting on horse racing, betting in casinos and wagering on sporting events. Those state rules may create a complicated legal mess if the new law is challenged.
Critics of the legislation argue that a likely outcome won't necessarily be less gambling online. Instead, those who want to seek out less-reputable companies to deal with will have no trouble finding them on the Web, and that may lead to more problems in the future.
Gaming proponents hope the United Kingdom's decision to more closely regulate and tax online gaming will give U.S. lawmakers confidence the same approach would work here.
Wanna Bet?
Costa Rica-based PokerStars.com, for instance, has argued that online poker may well be exempt from the new legislation. While the Act bans financing bets on "a sporting event or a game subject to chance," the site says poker is a game of skill.
In the UK, several large banks began telling customers they would not handle gambling transactions from the U.S. However, online payment processing firm Neteller said it was awaiting regulations to determine what payments it can and cannot handle. The law requires that regulations be drafted within nine months.
The threat of legal action may deter some companies, but the draw of the multibillion-dollar U.S. market will ensure that others step in to take their place, said Christiansen Capital Advisors analyst Sebastian Sinclair.
Sinclair said the passage of the law helps bring some clarity to what had been a confusing situation, where law enforcement was forced to apply decades-old laws to modern problems.
Despite the progress, the law settles little, especially in the eyes of companies operating overseas and taking bets from U.S. residents who could legally gamble in casinos down the street.
"From a global legal perspective, these issues are only beginning to be tested," Sinclair added. "This market is not something gambling companies will give up on easily."