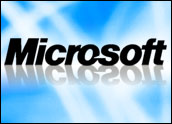 Strong demand for the Xbox gaming console and server software helped push Microsoft to a strong first quarter, with the company exceeding its own revenue projections and surpassing Wall Street forecasts for profit.
The Redmond, Wash., software giant said revenue rose 11 percent over the same period a year ago, to US$10.81 billion. Net income was $3.48 billion, up from $3.14 billion a year ago.
"The solid revenue results for the quarter were at the top end of our expectations and represent a very good start to the fiscal year," said Microsoft CFO Chris Liddell.
Driving the growth was the entertainment unit, which is headlined by the Xbox 360 console. Revenue from that business line was up 70 percent year-over-year as Microsoft reported selling some 6 million Xbox 360 consoles worldwide to date. The company said it expects to sell up to 4 million more worldwide by the end of the year.
That division remains in the red, however, though the losses have been reduced dramatically. The net loss of $96 million in the quarter, on revenue of $1.03 billion, was less than most analysts had forecast. The entertainment business will soon get another headline product with Microsoft's hoped-for iPod-killer, the Zune MP3 player, set to hit stores next month.
The strong performance gives an upbeat start to what could be a critical year for the company. Though some expect a lag in the current quarter, the stakes will be high heading into 2007 as the launches of Windows Vista and the 2007 version of Microsoft Office approach. There is some speculation that Microsoft's current program of giving away coupons for Vista upgrades may eat into second-quarter profits, but the company's long-term prospects look bright.
Servers Lead the Charge
"The real boost from Vista may not come all at once," said Gartner analyst Charles Smulders. In fact, some businesses may be planning 12- to 18-month migrations. However, he added that Microsoft has shown it can bridge the gaps between major releases by diversifying its revenue base.
Investors agreed with the positive prognosis, with Microsoft shares up about 1 percent in morning trading Friday to $28.59.
Chief Operating Officer Kevin Turner said the company's performance in between major releases bodes well for the rest of the fiscal year, with Vista expected to be widely available to both businesses and consumers within the next three months. "We are excited about these products and believe they will deliver unprecedented levels of business value to our customers," Turner said.
Among its other operating divisions, Microsoft's server and tools group was the strongest performer, with sales up 17 percent to $2.5 billion, the 17th straight quarter of double-digit growth for the group, which makes products that compete with database and network tools from IBM and Oracle.
Sales of SQL Servers remained red-hot nearly a year after that product's latest launch, with revenue from that product line up 30 percent in the quarter.
Online Lags
Microsoft's online services division continues to lag somewhat, with revenue from the unit down 4.4 percent to $539 million in the quarter. That drop comes in stark contrast to 70 percent revenue growth from rival Google.
Microsoft said its realignment of its online business, which has included splitting it into a content unit under the MSN brand and a Live unit that includes search as well as online versions of its software tools, has led to some slippage. It remains upbeat about its long-term prospects, however, with its new ad-serving platform now up and running and other improvements in the pipeline.
Still, data from Nielsen//NetRating show Microsoft losing market share in search.
Though it lowered its second-quarter forecast — in part because of a decision to defer $1.5 billion in revenue through the Vista upgrade coupon program — Microsoft did up its long-term outlook slightly, a reflection of optimism about the Vista launch and other factors. The company now projects revenue of $50 billion and $50.9 billion for the current fiscal year and operating income of $19.1 billion to $19.5 billion.
The Microsoft results added to what has generally been a positive earnings season for technology firms. Google blew away earnings estimates, IBM posted a solid quarter and eBay and Amazon.com all managed to impress investors heading into the critical fourth quarter season.