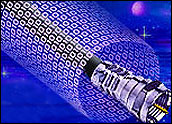 Marketers will need to tweak their selling strategies if they want to collar new broadband customers, according to industry experts.
Although broadband growth has been strong for the last three years — nearly doubling from 23.7 million subscribers in 2003 to 40.9 million in 2005 — the "big pitch" by marketers during that time has been the superior speed of the technology, according to Joe Laszlo, an analyst with JupiterResearch in New York City.
The speed pitch today isn't as effective as it was three years ago, he maintained. "Interest in broadband for consumers on dial-up after all these years doesn't seem to be very strong," he told the E-Commerce Times. "Broadband providers are going to find that the remaining hard core of dial-up consumers may prove pretty resistant to upgrading to broadband."
Price Is King
By paying attention to price sensitivity, phone companies have fared better than cable TV companies among dial-up users, he argued. "The phone companies have done really well with their DSL offerings in the past couple of years, largely because they realize that consumers who are interested in broadband aren't interested in broadband at price points over US$40 a month."
That is evident in the net number of new subscribers attracted to broadband in the last three years. Net new adds for the cable companies during that period have remained flat, according to Bruce Leichtman, president and principal analyst at the Leichtman Research Group in Durham, N.H.
"DSL has expanded the market," he told the E-Commerce Times. "Their adds aren't entirely cutting into cable. They've grown the market and they've grown it at the low price end."
The price pitch will remain a powerful one, added Laszlo. "That message is going to continue to work, although it's going to become almost an expectation on the part of the remaining dial-up consumer base," he contended.
Speed Still Important
Speed and better downloads are still powerful selling points for the market, Leichtman maintained, but he acknowledged that "price is much more important to the 45th millionth subscriber than it was to the 15th millionth subscriber."
Nevertheless, the reasons dial-up users move to broadband today haven't changed, Leichtman maintained. "It's a faster connection, and there's no tying up their phone line." Those, he said, are still the key issues.
"It's really not about applications. It's not about getting video online or playing games," Leightman continued. "It's about moving from a two-cylinder to a four cylinder car."
Marketing broadband has changed significantly over the last two years, according to Verizon spokesperson Bobbi Henson of Irving, Texas.
"You had a lot of dial-up users clinging to dial-up, not seeing a reason to move up to broadband," she said. "Now, people are very much actively shopping for broadband.
"They know they want broadband," she continued. "They know about speed and what speed can do for them."
Hard-Core Resistance
Regardless of how marketers try to sell broadband today, though, Laszlo noted that there is a core of dial-up users who are pitch proof.
Citing a survey conducted by Jupiter that asked dial-up users what appealed to them about broadband, he noted that there was a big jump — from 13 to 25 percent — in the number of people who said nothing appealed to them about broadband.
"It's getting tougher and tougher to identify from a demographic perspective or household characteristic perspective dial-up households that are likely to be interested in broadband," he said.
Families Targeted
Families are likely broadband targets, he maintained, because kids need broadband access for school, but even that group isn't a solid target market.
"I've heard anecdotally that some houses with kids believe that dial-up might be inherently safer because there's less chance of downloading spyware or viruses, and it gives parents more of a feeling of control over when their kids are online and what they do when they're online," he opined.
As broadband penetration of households approaches 60 percent, though, even hard core dial-up users may find it difficult to resist the faster technology.
"When you reach that penetration rate, growth becomes logarithmic," Martin Reidy, president of Modem Media in San Francisco, told the E-Commerce Times. "When you approach that penetration rate, you're suddenly a way of life."