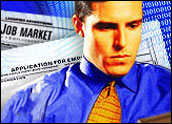 The bad news for more than 40,000 dot-com workers came when their employers told them they were no longer needed.
For some, the worse news might be the reception they get on the job market — or the adjustment in expectations and work habits they have to make in order to find new employment.
Layoffs at Internet companies have finally started to decline after six months of increases, according to research from job placement firm Challenger, Gray & Christmas (CGC). Still, more than 41,000 Web jobs have been lost since last October.
And for laid-off workers, there is something of a double whammy. Not only are jobs now far more scarce than a year ago, but salaries are no longer being bid up like they were, and workers who had become accustomed to perks such as flexible hours and casual workplaces are experiencing a bit of culture shock.
"We see people who come in with high expectations of the money they expect to make and also with very different expectations about what the work environment should be like," John Challenger, chief executive officer of Chicago, Illinois-based CGC, told the E-Commerce Times. "They have a hard time finding a place where they feel comfortable, where they want to stay."
Long and Slow
Allan Hoffman, technology jobs expert at Monster.com, said workers have to expect longer job searches and the pain that can cause.
"It's harder and takes longer to find the good jobs," Hoffman told the E-Commerce Times. "Unfortunately, for some people, that means collecting unemployment and doing contract work and worrying about paying the mortgage."
Many of those workers are also still experiencing a bit of shell shock from how fast things turned around, Hoffman said.
Culture Clash
"The difference is astonishing," he said. "Eighteen months ago it seemed impossible that you would ever not have a job, that you wouldn't get 10 percent pay raises every year. It's like that other time was a dream."
For some workers, the adjustment is less about pay rates and benefits and more about doing work that mattered to them.
"Some of us have jobs but we're all pretty miserable," said an employee left jobless early this year by the demise of Send.com who asked to be identified only as Sarah. "It's tough to go back to a plain old job when you were doing something that you really loved. Something that you built your life around."
Bright Spots
The news isn't all bad. Challenger pointed out that many dot-com employees got the type of high-level management experience at a young age that it would normally take years to acquire in an Old Economy setting.
"They developed great skills in this e-commerce setting that are going to continue to be more and more valuable," Challenger said. "There are many companies in every industry that need that kind of help."
Hoffman added that workers with "deep technical skills" are still in heavy demand.
"Everyone benefited on the way up," Hoffman said. "But now there's more differentiation happening again."