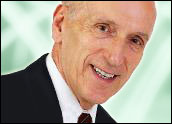 In many cases, the entrepreneur who had the courage to start a new business was on the right track by choosing a startup that could be both viable and profitable. Yet, the company failed. Why is that? Because of lack of working capital: the main cause of startup failures.
This kind of failure can be avoided if the businessperson delays the launching of the startup until he/she has a great business plan that includes a sober look at the working capital needed to carry it through to profitability.
Unfortunately, far too many companies are launched prematurely. The reason, in my opinion, is that entrepreneurs, being risk takers by nature, are too anxious to get their companies started. Otherwise, why would they take the huge risk of putting so much on the line having only vision and confidence?
---

Listen to Ted di Stefano (7:24 minutes)
---
The entrepreneur should be thoroughly familiar with where he or she will get the funds to start a company and with what strings might be attached to those funds.
All sources of funding are not created equal, and the businessperson should know both the hazards and the benefits to each source. Here are the most typical funding sources along with both the benefits and the drawbacks of each source.
The Angel Investor
A so-called angel is a financial backer who provides investment capital to small businesses, startups and entrepreneurs. The angel investor could be a professional angel, an acquaintance, a friend or a relative.
My choice is the professional angel because this type of investor tends to deal in a nonemotional, businesslike fashion. Additionally, this type of investor can also be a good source of solid advice to the new entrepreneur.
How do you go about finding an angel investor? Actually, it's quite easy. A Google search should bring you about 2 million hits on this type of investor. The trick is to properly vet the person or company so that you will have no regrets at a later time.
The only really negative thing that I would say about an angel is that the investor might not be large enough to service your financing needs after you have launched your business and have reached a point where you need substantial additional capital to bring it to the next level.
Where do you find an expert to vet the credentials of the angel? For the small startup, I would simply go to my CPA (certified public accountant) or attorney. For a larger startup, I would choose an investment-banking firm based upon the size of the startup (small, medium or large).
For additional details on angel investors, please see my E-Commerce Times article "Searching for Capital: Small-Cap Options."
Venture Capitalists
The venture capitalist (VC) is quite visible in our economy today as a source of funds for startups. However, this particular funding source is not without its drawbacks.
I must say that the majority of venture capitalists are pros that have not only made millions for themselves, but have also made millions for the entrepreneurs who had the business concept that enticed the VC to invest.
That said, signing up with a VC is not without its problems. The main drawback is that the VC usually adheres to a rather strict exit strategy. This means that the VC wants to sell out its interest within a specific period of time, then take its investment and profits and plow them into the next venture. This process normally assures investors in the VC firm a handsome return on their dollars.
Another thing that you can expect from a VC is loss of some control. Many entrepreneurs are used to having a great deal of (if not total) control over their enterprise. This absolute control is commonly forfeited by signing up with a VC.
Keep in mind that VCs tend to be quite objective and calculating when it comes to their investments and startups. This means that they very likely will second-guess your decisions and actually exercise control over them because they usually insist on some sort of veto power.
Many entrepreneurs, by their very nature, bridle at this sort of control. If you are this type of entrepreneur, I would suggest that you focus on an angel investor who might be more agreeable with your decisions.
Besides the obvious benefit of providing your startup with capital, the VC usually provides your enterprise with the seasoned expertise to fully realize your company's business plan. This sort of control has been critical to the successful outcomes of many startups.
Other Sources of Funds
Obviously, besides the angel investor and the venture capitalist, you still have quite a spectrum of funding opportunities. For example, I participated in one such funding source as a member of the board of directors of the Rhode Island Industrial-Recreational Building Authority, a quasi-governmental agency that provided funds for businesses wanting to relocate to Rhode Island and hire local workers.
Most, if not all, states have a similar organization. Their purpose is to attract industry to their states. If you were interested in this type of funding, I recommend that you call your state's department of economic development. Their personnel can, at the minimum, provide you with some interesting funding options.
Another source is the Small Business Administration (SBA). I suggest that you call your local branch and make an appointment for a consultation. The sole purpose of this agency is to provide help to the small businessperson.
The SBA has a not-for-profit arm originally called "Service Corps of Retired Executives," now simply named "SCORE." This organization can be extremely helpful in guiding you in your search for funds and in the management of your company.
Still, there are additional sources of funds. My advice would be to check with your CPA, attorney, financial adviser or investment banker. You might be pleasantly surprised at the funding opportunities available to you.
Good luck!
---
Theodore F. di Stefano
is a founder and managing partner at
Capital Source Partners
, which provides a wide range of investment banking services to the small and medium-sized business. He is also a frequent speaker to business groups on financial and corporate governance matters. He can be contacted at
[email protected]
.
---