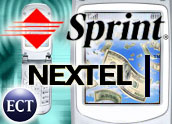 The long-discussed consolidation of the wireless communications industry appears poised to pick up speed again, with the Federal Communications Commission said to be on the verge of approving Sprint's US$35 billion acquisition of Nextel Communications.
Staff at the FCC have reportedly forwarded recommendations to commission members, advising them to approve the merger. While staff recommendations are not binding, most observers believe the merger will enjoy clear sailing.
Meanwhile, both Sprint and Nextel shareholders are scheduled to convene this week to vote on the merger.
Conditions Possible
The deal is expected to get overwhelming shareholder approval. Some analysts believe the FCC approval, however, will come with some conditions that will result in the combined company — which will be the third-largest wireless carrier in the U.S. — selling off some wireless licenses or other assets.
Another significant hurdle was cleared this week when Sprint announced a plan to buy US Unwired in a deal worth $1 billion. That move ended that affiliate's objections to the merger, though an affiliate of Nextel is also taking legal action to block the merger.
The FCC already approved another wireless merger this week, giving its blessing to the $4.4 billion buy of Western Wireless by Alltel, which is now poised to become the country's fifth-largest wireless provider. That deal might provide hints about the framework for an approval for Sprint, since as part of the deal Alltel must divest assets in some 16 sub-markets in order to ensure competition remains vigorous.
Such divestitures probably won't bother Sprint, since most analysts believe the reason it was interested in Nextel from the outset was its cache of 15 million business customers, many of whom rack up sizable monthly bills on traditional calling, data services and push-to-talk calling plans.
Some groups have lobbied the FCC to block some of the largest telecom mergers in recent years, often with little to show for their efforts. Consumer groups have raised questions about whether consumers and businesses will face higher costs as a result of having just a handful of major national wireless carriers.
Defensive Action
Independent telecom analyst Jeff Kagan told the E-Commerce Times that the momentum created by the first wave of telecom consolidation deals has moved the trend forward very rapidly.
"First we saw Cingular and AT&T Wireless" announce their merger last year, he said. "Next it was Sprint and Nextel. Then SBC and AT&T. Then, finally Verizon and MCI. The historic shift in telecom is underway, and now that it has started, it's happening quickly."
Kagan said despite its history as a wire-line long-distance company, Sprint has seen its best performance come in the wireless arena and it's there that the combined company will be a competitive force. "As the third largest wireless carrier, the company looks very strong and innovative," he added.
Despite the rampant consolidation, the upheaval in the communications space has only grown in recent months, with new technologies promising to add further change to the mix. In the past two weeks, both search engine giant Google and IBM have announced they are backing projects to deliver broadband — Internet access and voice-over-Internet protocol — over electrical power lines.
"Telecom firms see an uncertain future, and part of what's driving the mergers is a response to that," Kagan added.