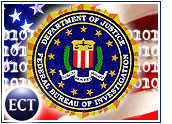 Responding to a judge's order to expedite the release of information related to Carnivore, its controversial e-mail snooping technology, the U.S. Federal Bureau of Investigation (FBI) is preparing to hand over as many as 3,000 pages of documents to the Internet privacy watchdog group that has been among the system's most outspoken critics.
The Electronic Privacy Information Center (EPIC) has assembled a team that will pore over the technical and legal documents relating to Carnivore, EPIC Director Marc Rotenberg told the E-Commerce Times Thursday.
"We'll be in a position to look at it and let the public know what we find," Rotenberg said. "We have always been in favor of a full public disclosure."
FBI Almost Ready
Wednesday's court order stemmed from a lawsuit by EPIC claiming that the FBI was thwarting the United States' public records laws by not quickly turning over information to EPIC and other privacy organizations.
Notable among that group is the American Civil Liberties Union (ACLU), which has fought to have Carnivore shut down since its existence was revealed earlier this summer.
In a letter to EPIC General Counsel David L. Sobel, Justice Department attorney John Kelso said the group will receive the first batch of Carnivore information within 45 days. "The FBI is processing the material you requested as soon as is practicably possible," he wrote.
Carnivore is used inside the facilities of Internet Service Providers to monitor packets of e-mail traffic sent across networks. The high-speed computer system can reportedly scan millions of e-mails each second, prompting concerns about privacy among watchdog groups and some members of Congress.
The FBI maintains that it secured court orders to use the system, and that Carnivore targets only e-mails sent by suspects under investigation.
Separate Review
The U.S. Justice Department, meanwhile, is expected to announce this week the selection of a university that will conduct a separate review of Carnivore. Attorney General Janet Reno has said that she will allow a group of experts to review the system to allay public fears.
Nevertheless, EPIC has pushed for a full public disclosure. "The only way that the privacy questions can be resolved is for the FBI to release all relevant information, both legal and technical," Sobel said in a statement.