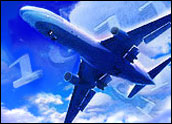 Anyone who has flown in the past two decades knows the drill: Electronic devices including mobile phones, tablets and handheld game systems must be turned off when the airplane doors are closed.
Soon, however, those rules may change, the Federal Aviation Administration announced this week.
"The FAA recognizes consumers are intensely interested in the use of personal electronics aboard aircraft," said the FAA in a statement provided to the E-Commerce Times by spokesperson Les Dorr. "That is why we tasked a government-industry group to examine the safety issues and the feasibility of changing the current restrictions.
"At the group's request, the FAA has granted a two-month extension to complete the additional work necessary for the safety assessment," Dorr added. "We will wait for the group to finish its work before we determine next steps."
The group's recommendations are now reportedly due in September.
The FAA declined to provide further details.
Ever-Changing Distinctions
Currently, some devices are banned for use during the entire flight, while others are allowed to be used when the plane reaches a cruising altitude of 10,000 feet.
Over the years the list of devices singled out by airlines has changed, making it difficult to stay on top of the rules. Enforcing them was also difficult.
Further confusing the situation is the fact that many devices technically exist in an always-on state and are actually just in a sleep mode when they appear to be off. Flight crews typically insist that devices be completely powered down.
The FAA has acknowledged that many fliers simply disregard the rules, as well. In fact, industry studies have reportedly shown that nearly one-third of passengers leave their devices on — whether by "accident" or not.
'There's Never Been an Incident'
The simple fact is that these rules were first put in place when mobile phones were far from the norm and an electronic video game machine was about as complex as most gizmos came.
"The current rules are there, it seems, purely out of momentum," said telecommunications analyst Steve Blum of Tellus Venture Associates. "Personal electronics — mobile phones, tablets, laptops, audio players, e-book readers — pose zero danger to airplanes themselves."
In fact, "there's never been an incident where a passenger device has interfered with an airplane's operation, and no one has ever come up with a plausible theory about how one might," Blum told the E-Commerce Times. "Think about it: If electronic devices could put an airplane in danger, they wouldn't solve the problem with frequently ignored rules about when you can and can't use them. They would ban the devices altogether."
Confusion on the Ground
Now, with the potentially relaxed rules, some things, such as tablets, might be allowable during taxiing, takeoffs and landings, and so would not have to be shut off at all during the flight.
Where mobile phones could fit in, however, remains to be determined.
One concern, for instance, "is the potential for rapidly moving mobile phones at 30 thousand feet, causing confusion for ground-based cell sites," noted Blum. "There might be something to that, but the problem exists anyway because people leave their mobile phones on regardless."
The other issue is the size of the devices. Today's tablet computers are no bigger than magazines and weigh far less than the hardcover books that some travelers still lug around, but that wasn't always the case.
"There's a concern about people using heavy objects during takeoff and landing," admitted Blum. "Back when laptops weighed 10 pounds or more, you probably wouldn't want one bouncing on someone's knees during a rough landing."
'Things Are Lighter Now'
Airline crews, of course, would most likely prefer not to have to make — and, worse, enforce — judgments on what might or might not be acceptable.
"I can sympathize with that," Blum said. "Things are lighter now, though, and many, if not most, devices are perfectly safe.
"My Kindle is lighter than most books and is no more dangerous electronically than my wristwatch," he added. "Adding one more thing to argue about would not be particularly welcomed by anyone."
'Intense Pressure'
There have, in fact, been efforts to lobby for a type of blanket rule to make enforcement easier.
"That's the world we live in," admitted Blum. "Airlines shouldn't solve their personnel and customer service problems by lobbying for government rules that treat everyone like they're in the first grade."
Even if the rules are relaxed now, fliers should accept that any issue — ranging from interference complaints to a potential concern that devices could be used in such unthinkable situations such as a terrorist attack — could cause a reversal of this latest decision.
"While the FAA seemed to be under intense pressure by the flying public — a huge segment of the gadget-carrying population that happens to include lawmakers — I cannot imagine the agency agreeing to such a policy shift unless there is sufficient test data that conclusively shows avionics and flight safety would not be compromised," Jeffrey Silva, senior policy director for telecommunications, media and technology at Medley Global Advisors, told the E-Commerce Times.
Still, "I imagine the FAA would closely monitor a new policy allowing unfettered use of electronic gadgets on flights," he added, "and wouldn't hesitate to put on the brakes at the first inkling that a problem might be present."