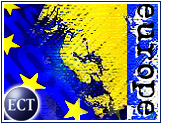 A report released Thursday by the European Union shows that Internet penetration has increased 55 percent in Europe over a six-month period.
According to the report, an assessment of the progress of the eEurope initative, the number of European households with Internet access rose from 18 percent in March to 28 percent in October.
The report attributes the surge in Internet usage to new EU initiatives such as bringing more schools online and wiring libraries. The eEurope initiative has also helped speed up important legislation, such as laws to cut the red tape on export controls for encryption products.
"These figures are really very encouraging," said Erkki Liikanen, the EU Commissioner in charge of implementing the eEurope Action Plan. "The year 2000 has truly been the year of the Internet in Europe."
Faster Legislation
Since its launch last June, the eEurope initiative has had a broad policy impact. The report found that 70 percent of small-to-medium sized EU businesses are now connected to the Internet, with 40 percent running their own Web site.
One of the initiative's most recent successes has been the recent agreement by EU Regulation on local loop unbundling, which is expected to increase competition among local communication carriers and lower dial-up costs for European consumers.
The EU has also launched a project to upgrade the connections between Europe's research networks to as much as 10 GB by the end of 2001. In addition, a new US$130 million program has been proposed to stimulate the development and use of European digital content on the Internet and promote linguistic diversity on European Web sites.
Going Private
According to the report, the new EU Internet initiatives are not limited to the public sector.
"The effects of eEurope have begun to be felt well beyond the public sector in the European Union," the report said. "The readiness of private companies to devote resources to support eEurope in areas like education, eGovernment and smart cards are very encouraging examples."
New Challenges
With the new legislative successes, however, come new barriers to be addressed, the EU said.
"Although rapid progress in many areas gives cause for optimism, challenges remain and Europeans should not be complacent," the report notes.
The need for increased information systems security is one such challenge. According to the EU, "recent attacks on networks highlight the need for more effective protection."