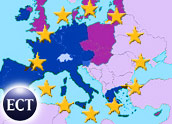 A week after the Legal Affairs Committee of the European Parliament demanded that the Computer Implemented Inventions Directive be rewritten, the European Union has delayed plans to approve the controversial rules providing for patenting computer software.
Observers expected EU ministers to endorse the bill next Thursday and send it to a second reading in the European Parliament, but Luxembourg, the bloc's current president, has taken the issue off the meeting's agenda.
"The Commission regrets very much that the software patent will not be on the agenda. It has been removed," Commission spokesman Olivier Drewes told a news conference. Drewes said the legislation had run into new problems, but declined to offer details.
Battle Continues
The Dutch parliament reportedly asked the government yesterday to ensure that the patent bill would not be approved next week without new discussion. Poland helped block a version of the draft law the EU governments agreed to last May, but has since dropped its opposition to the legislation. The Netherlands has backed the legislation.
Opponents, including the Foundation for a Free Information Infrastructure (FFII), have aggressively lobbied against the directive, claiming it would lead to widespread patenting of software in Europe, which the foundation opposes. Supporters of the patent rules deny that claim.
The FFII is dedicated to the spread of data processing literacy. It supports the development of public information goods based on free competition and open standards.
Michael Q. Lee, attorney with Sterne, Kessler, Goldstein & Fox in Washington, D.C., told the E-Commerce Times that small software companies are at a marked disadvantage if they can't patent inventions.
"Europe is behind the times and so companies that work in Europe are really at a disadvantage," Lee said. "Their ideas and inventions can essentially be stolen by others. Small companies certainly don't have the marketing clout or the finances to battle a large company."
U.S. Versus EU Patent Laws
Lee said the United States allows small companies to protect themselves through patents, and it doesn't distinguish between hardware and software inventions because each requires the same amount of inventive energy.
What will happen now? Lee said that appears to be "up in the air."
"The worst case scenario from a legal perspective is that there will be no patent law and it will be open season on small companies with software inventions," Lee said. "Innovation comes from small companies, and they have no incentive to develop new products if a larger company can just swoop in and take it."