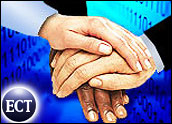 In a move that will boost production of computer chips found in common consumer electronics equipment, the European Union regulatory board reportedly has approved a joint venture between Germany's Infineon Technologies (NYSE: IFX), Motorola (NYSE: MOT) and Agere Systems.
Each of those three companies will own one-third of the new firm, to be known as StarCore. The venture will be headquartered in Austin, Texas, and will manufacture the core technology behind digital signal processors (DSPs). This technology plays a role in voice compression, voice recognition, digital music and video compression.
Final Hurdle Cleared
The EU approval will allow the company to begin conducting business, Motorola spokesperson Ken Phillips told the E-Commerce Times.
StarCore spokesperson Allen Hyman told the E-Commerce Times that EU approval was the final hurdle to opening the company's doors, and that the staff is "ecstatic."
"We've gotten a number of calls from customers and potential customers after we said we were forming this company," said Hyman. "Our next step is to start closing some of the business with those companies."
Competitive Advantage
StarCore's main advantage, according to analysts, is that it will be able to compete with the number one DSP maker, Texas Instruments, by licensing its technology to third-party developers.
"They are clearly seeking an advantage in terms of shared development costs and leveraging the expertise the separate companies have," Russ Craig, director for semiconductor research at Aberdeen Group, told the E-Commerce Times. "I'm sure they are hoping the whole will be greater than the sum of its parts," he added.
According to Craig, in addition to gaining a competitive advantage by selling its intellectual property to competitors, StarCore is also likely to leverage Infineon's memory research and development in terms of embedded memory.
Craig said he expects StarCore to focus on wireless DSPs initially, as the bulk of the market consists of such chips. The effect for consumers could be more feature-rich mobile phones and lower prices.
New Wave of Deals
The deal also signals a change in the competitive model for semiconductor manufacturers, Craig added. Previously, if a company wanted to venture into new territory, it created a new startup division within the company. Now, companies are pooling their resources — and in some cases, as with Motorola and Agere Systems, the companies doing so are competitors.
"They look for advantage in terms of shared costs in putting together a consortia like this," Craig said, "and I think we're going to see more of this [rather] than less."
Chip Sales Sag
At the same time, the World Semiconductor Trade Statistics, which tracks sales of all semiconductors throughout the world, announced that chip sales grew 2.2 percent in August, up from July's US$11.93 billion total.
Analysts have warned that consumer demand for mobile phones and computers has waned, and that the promise of increased holiday sales this year is also in question.
The good news for chipmakers is that August 2002 sales topped year-ago figures by 14.2 percent, after one of the bumpiest semiconductor seasons the industry has seen since its genesis.
In North America, sales dipped .07 percent between July and August to $2.58 billion, while Japan logged a 3.5 percent increase and Asia-Pacific posted 2.7 percent growth, the WSTS figures showed.
In addition, Craig estimated, what was nearly an $11 billion market last year could be worth as much as $13 billion in 2002, and could near $15 billion in 2003 if demand for consumer products continues.