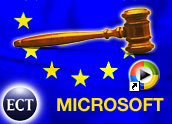 Microsoft has been promised a late April hearing in Europe's Court of First Instance for its appeal of the European Commission's antitrust sanctions. At the same time, the software giant has agreed to open its source code to competitors in the latest installment of its long-running dispute over how much proprietary information it should surrender under pressure from the Eurocrats.
All this comes as Europe's regulatory policies, including competition policy, are supposed to be undergoing review. In December the CFI upheld the EC's power to block a GE-Honeywell merger but rejected the reasoning behind that action. This belated end to a four-year-old dispute was regarded as a serious constraint on EC antitrust powers because it rejected findings of unfair competitive advantage due to "bundling" or conglomeration of different lines of business.
Customers' Best Interest
For GE-Honeywell the bundling involved engines and avionics, and the antitrust findings came in the context of a merger proposal. The Court may have signaled that these kinds of cross-market combinations are not sufficient basis for government interference absent compelling proof of economic harm.
This could be important to Microsoft, which was, inter alia, required by the EC to "unbundle" its media player from the Windows operating system using a similar theory of unfair market leveraging. Lost in all this legal wrangling is a basic question: What's best for the consumer?
Last September EC Competition Commissioner Neelie Kroes delivered a policy address asserting she likes "aggressive competition — including by dominant companies — and I don't care if it may hurt competitors, as long as it ultimately benefits consumers."
Ms. Kroes may truly want to weigh objective economic analysis and measurements of consumer well-being in formulating EC antitrust policy. That would be a conceptual breakthrough for the EC, which to many observers seems too self-serving in protecting European business against Microsoft, Intel, MCI, GE, and Honeywell. The EC does bring serious anti-competition complaints against intra-Europe competitors, but the high-profile cases usually involve U.S.-based multinationals.
Yet Ms. Kroes continues to embrace the Microsoft case, inherited from Mario Monti, her predecessor (who is now advisor to Goldman Sachs). She also praises third-party complaints against companies like Microsoft, a fresh batch of which were filed with her office this fall. Thus competitors who "forum shop" (look for the friendliest government regulator) have significant power in steering competition policy. The cause of coherent, consistent antitrust rules takes a back seat.
The Future of Competition
In the case of Microsoft, its competitors forum-shopped across the Atlantic, after an incomplete success in the U.S., and were greeted with open arms. In ordering Microsoft to unbundle Windows and reveal discrete source code to competitors, the EC showed no real findings of a "consumer welfare" connection, it just asserted that a dominant competitor is by definition a bad thing.
Ms. Kroes now suggests a "softer" consumer welfare standard which would make more economic, practical and political sense. Only real-world applications will show whether this is a real shift or rhetorical sleight-of-hand.
Microsoft in any event seems unlikely to benefit from the change. Kroes is rigorously overseeing Microsoft's technical compliance with the EC's order. She has agreed to meet periodically with Microsoft CEO Steve Ballmer, suggesting cordial relations between one of the world's largest companies and the overseers of one of the world's largest markets. But that's style over substance: Where in fact is EU competition policy headed?
If Microsoft will be the last gasp of the old market-dominance analysis, Europe should be eager to settle its outstanding issues with Microsoft and move on. Instead, it is looking at the new third-party complaints and fighting Microsoft's appeals all the way.
Biting the Bullet
Politically, it may be difficult for EC authorities to extricate themselves from the Microsoft prosecution, as Microsoft seems to remain "multinational enemy number one" for much of European public. But unless they bite the bullet on this one, Europe's talk about reinventing Europe's competition policy for the 21st century — a competition policy that must respond to developments in Asia and the developing world, not just the United States — will be nothing more than talk.
For 2005 U.S. growth is projected at around 3.5 percent, EU growth is projected at 1.5 percent, and U.S. productivity gains are expected to remain strong. Asian growth is projected to remain strong for the foreseeable future.
The issue, after all, isn't whether Microsoft can compete globally. The question is whether Europe can.
---
George Pieler
is a senior research fellow at the
Institute for Policy Innovation
and former economic advisor to Senator Bob Dole.
---