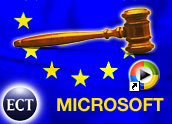 Just months after it decided to stop its legal battles against a landmark European Union antitrust finding, Microsoft now finds itself facing two new inquiries into claims that it abused its market dominance in Europe.
The European Commission is looking into accusations that Microsoft used its power in the word processing and spreadsheet markets to keep rivals at bay, and whether the company broke European competitiveness laws with the way it tied its Internet Explorer browser to the Windows operating system.
Commencement of formal investigations "does not imply that the commission has proof of an infringement. It only signifies that the commission will further investigate the case as a matter of priority," the EC noted.
Full Cooperation
A complaint filed by Norway-based browser maker Opera sparked the browser-related inquiry; the word processing and spreadsheet investigation came about after the European Committee for Interoperable Systems complained to the commission that making products compatible with Microsoft products such as Office and Outlook is made difficult by a lack of information on how they work.
Microsoft intends to "cooperate fully" with the investigation and "provide any and all information necessary," it said. "We are committed to ensuring that Microsoft is in full compliance with European law and our obligations as established by the European Court of First Instance in its September 2007 ruling."
Familiar Refrains
In October, Microsoft agreed to stop battling in the courts the 2004 antitrust ruling made by the European Commission that found that the software giant had illegally tied its Media Player software to its Windows operating system. That complaint cost Microsoft hundreds of millions of dollars in fines, fees for noncompliance and legal costs before it was put to rest. Along the way, Microsoft produced a version of Windows without the Media Player and created a protocol-licensing program designed to make it easier for third parties to build compatible products.
In fact, both new cases echo basic premises confirmed in the first antitrust ruling: that it is an abuse of Microsoft's dominance in one area — its operating system still runs more than 80 percent of the personal computers in the world — to exclude others from competing in another area; and that products must be made in a way that enables interoperability with those of other vendors.
Opera also has another precedent on its side, though it will not have legal weight in Europe: The U.S. Justice Department's landmark antitrust case against Microsoft was based on the notion that the way Internet Explorer was tied into Windows helped decimate demand for the once-dominant Netscape browser. The Opera inquiry is also going to take into account Microsoft's new family of online services, such as Windows Live, the EC said.
Meanwhile, the foes are familiar in the office tools case. Those who supported the original complaint are old-time rivals Sun Microsystems and IBM. Among the questions the commission will seek to answer in that case is whether Microsoft's new Office Open XML platform is "sufficiently interoperable with competitors' products." The inquiry is also expected to look at the relative interoperability of the .Net development platform.
The new complaints may have been emboldened by the September 2007 ruling by Europe's second-highest court upholding the basic principals of the antitrust ruling.
Long Road Redux?
Microsoft may have realized more complaints could be coming after the ruling by the Court of First Instance to uphold the 2004 ruling against it in Europe, Yankee Group analyst Laura DiDio told the E-Commerce Times. "That ruling and the decision not to pursue any further appeals may have caught the attention of companies that have other axes to grind."
The Opera complaint comes at a time when the Mozilla Foundation's open source Firefox browser is seeing its popularity in Europe rise to an all-time high. XiTi Monitor reported last fall that 28 percent of European PCs now run Firefox while IE usage had dropped to 66 percent, down from 73 percent a year earlier. Microsoft's worldwide browser market share is around 85 percent, according to tracking firm OneStat.com. Opera has less than 1 percent of the worldwide market.
Newer versions of Microsoft, especially those made after the settlement of antitrust charges in the U.S., are built to enable users to choose their browsers, DiDio noted, which may further weaken the argument about current products and market conditions.
Highly Motivated?
Still, the software maker will be highly motivated to avoid another long, drawn-out process. The first case was investigated for more than five years before the 2004 ruling, which resulted in another three years of legal back-and-forth.
"While those distractions are costly, what Microsoft most wants to guard against is having to significantly alter their current products," such as Vista, Gartner analyst Michael Silver told the E-Commerce Times. "Microsoft has lots of experience with these regulators now and will have a good sense before too long whether the EU has cases that they're going to pursue here or not."
The EU has gained a reputation for being staunch antitrust investigators and not just when it involves Microsoft. Last week, Apple settled a case involving iTunes pricing that had recently become the subject of a formal inquiry, and Intel recently responded to allegations that it used illegal business practices to keep rivals at bay. Meanwhile, mergers such as the Google-DoubleClick hookup are getting close scrutiny from regulators.