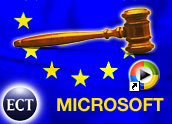 In the latest development in an ongoing software soap opera, the European Union today rejected Microsoft's selection of a trustee whose duty would have been to make sure the company complies with EU antitrust laws.
"We have officially informed Microsoft that their proposal on the monitoring trustee is not acceptable," Commission spokesman Jonathan Todd said. "Essentially they wished to have a veto on what issues the monitoring trustee could examine."
The European Commission's original ruling stated that if it considers Microsoft's proposal unsuitable "it retains the right to impose such a [monitoring] mechanism by way of a decision." The Commission's statement today sets the stage for another face off.
Microsoft was not immediately available for comment.
Checkered History
After the Commission ordered the software giant to stop violating antitrust laws a year ago and imposed a US$654.9 million fine, Microsoft was charged with nominating an independent monitoring trustee to ensure it followed through with its obligation to sell a version of Windows without its Media Player and share the code with rival server makers.
In the face of a EU threat to levy $5 million in daily fines for allegedly failing to license selected software code, Microsoft on Monday announced the expansion of its Shared Source Initiative (SSI) to cover seven additional EU countries. But the latest snag in the suit's aftermath is pitting the powerful company against the powerful 25-nation bloc once again.
Rob Enderle, principal analyst with the Enderle Group, told the E-Commerce Times that he doesn't expect the two sides to make peace anytime soon. The European Commission is seeking strong enforcement and Microsoft is seeking light enforcement, he said, and resolution may require another day in court.
Promise to Comply
"The EU and Microsoft are highly opposed groups. They are not going to come to an agreement without a lot of help, especially when it comes to matters of oversight," Enderle said. "EU and Microsoft are clearly on opposite ends of the spectrum."
Microsoft has said it will respond to the Commission's charge by the April 11 deadline. If the company fails to do so, it will once again be facing the $5 million daily fines it just scrambled to avoid with its SSI expansion.
Enderle said compliance can mean different things to different parties. "Microsoft is going to comply with the way they interpret the ruling," he said. "The EU may interpret that ruling differently and [say they are] in non-compliance. We are not through this process yet."
An End in Sight?
Enderle said he expects the strife between the EU and Microsoft to continue at least through the rest of this year. Beyond that, it's anybody's guess, he said.
"Microsoft probably won't change, but politics and politicians change," Enderle said. "Depending on what's happening in Europe, this could either last quite a bit longer — or could end suddenly."