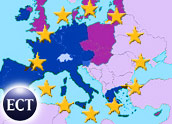 The European Commission said it will present regulations aimed at cutting down on the often exorbitant fees mobile carriers charge when their customers roam internationally.
The Commission said the premiums charged by some mobile companies when users cross country borders are "unjustified."
Small World
The agency said it would draft a law to eliminate all premium charges for users receiving a call in a European country other than their own, letting them instead receive calls at local rates. International calling rates would still apply when making outgoing calls across borders.
For now, the legislation is expected to affect only the 25 countries within the European Union.
In announcing the plan, EU Information Society Commissioner Viviane Reding said the roaming charges are the last vestige of the old Europe, before the arrival of the EU broke down many borders to trade, commerce and movement.
"Today it is only when using your mobile phone abroad you realize that there are still borders in Europe," she said during a press conference.
The EU estimates that carriers reap some US$12 billion a year in roaming charges. The problem is especially acute in parts of Europe where business travelers often cross borders on business, sometimes moving among multiple countries in the course of a day.
Sending a Message
The Commission had warned last year that it would target the practice of charging higher rates for international calls, establishing a Web site meant to shame carriers with the highest fees.
Reding said several carriers have raised rates since the site first went live last fall. "Mobile operators seem to have some difficulty understanding my message," she added.
The EU has had roaming prices in its sites since 2000, when anti-trust regulators filed charges against some German and British phone companies, accusing them of abusing their market power by charging excessive fees.
Opposition to the proposal came immediately from the GSM Association (GSMA), the mobile industry's worldwide trade group.
GSMA CEO Rob Conway said additional regulation is "unnecessary and could have unforeseen consequences."
"While we believe that competition is the best way to meet the needs of customers across the whole range of mobile services, the GSMA membership will continually explore ways in which further industry action might address particular concerns of customers and other stakeholders," he said. "Overlapping regulation increases uncertainty and could put at risk further investment in networks and the development of new services, harming Europe's broader competitiveness."
When in Roam
Conway said many carriers offer roaming programs as part of larger packages of services, which can make it difficult to evaluate the true costs. He also said that carriers typically have to pay a fee to pass a call across a border and argued that curtailing fees could hurt the industry even as it makes significant investments in next-generation networks.
The pain of overseas roaming charges is something that U.S.-based global travelers know full well. Though no relief from regulators in the U.S. is in sight for those customers of mobile carriers, industry consolidation could help make it more affordable over time.
"Even though competition is arguably decreasing, the larger companies have more network assets they can put to use for their customers," telecom analyst Jeff Kagan told the E-Commerce Times. "The costs will always be higher for overseas calling, but in the long run, the prices should become more reasonable."