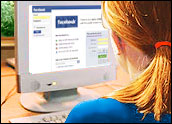 Facebook came under fire again on Monday as a privacy advocate called for the Federal Trade Commission to investigate the social network's relationship with data marketer Datalogix. This wasn't just another instance of what have become typical privacy concerns with Facebook.
The latest call came from the Electronic Privacy Information Center and could be quite "epic" in other ways. The privacy group has questioned whether Facebook violated an agreement it struck with the FTC last November. The FTC had charged the social network giant with repeatedly sharing information that users believed was kept private.
Under the settlement, Facebook admitted no guilt but agreed to obtain users' consent before sharing any information beyond what was spelled out through established privacy settings.
"EPIC believes that the U.S. Federal Trade Commission should open an investigation to determine whether Facebook's proposed arrangement with Datalogix complies with the terms of the recent settlement," said President Marc Rotenberg.
Epic and Facebook did not respond to our request for further details.
Another Slap in the Facebook
In August, Facebook and the FTC further agreed that the social network must obtain consumers' approval before it changes how it shares data, and submit to regular audits of its privacy practices over the next 20 years.
"It's not immediately clear whether this deal would violate the terms of the FTC settlement," said Greg Sterling, principal analyst at Sterling Market Research. "It might require disclosures to Facebook users and/or consent. However, a conclusive determination requires more study."
This is just the latest round of debacles that Facebook has faced since its underwhelming IPO back in May. The question here is whether the privacy concerns are really valid?
"Data purveyors have long shared data," said Rebecca Lieb, digital media advertising analyst for the Altimeter Group.
This sharing of information is there to provide a more complete picture of a customer, she added.
"The overlay of data presents a granularity of information," Lieb told the E-Commerce Times. "Some people feel uncomfortable about it, and feel that privacy is compromised."
Data In, Data Out
Datalogix is linked to Facebook through loyalty cards that the marketer uses to track purchases to enable targeting in future advertising campaigns. These accounts, which are linked to Facebook accounts, share information, including email addresses.
Is this enough to raise red flags? And will the FTC respond?
"The rationale behind the Datalogix deal is very clear," Sterling noted.
"Datalogix will be able to give Facebook and its advertisers metrics on which ads drove in-store sales. That kind of information is incredibly valuable to Facebook," he told the E-Commerce Times. "It's much more valuable than impression or click data, because it involves tracking online ads to real revenues in the real world."
This level of sharing of data could even allow advertisers to determine the effectiveness of an ad in ways that previously have been impossible to track.
"It does provide an indication of which ads Facebook users may have seen and even determine if an item was purchased offline," said Lieb.
"That information is extremely important to advertisers. These are things that have not been possible in offline media," she added.
"You can't verify whether people saw a broadcast ad," Lieb pointed out. "They might have left the room when the ad ran on TV — but this tracking could determine if an ad was seen on Facebook."
Ads of the Future
Given that this is becoming commonplace, the issue is whether there is a way around it, apart from simply "unfriending" Facebook entirely. But even that likely won't stop more digital tracking.
"Some people do feel that this level of tracking is creepy," said Lieb, "but it is becoming more common."
The degree of targeting can feel awfully close to a privacy violation in some cases, she noted, but for advertisers this has opened the door to new ways to track consumers. Different data sets can be overlaid and this, in turn, provides a deeper and clear picture of the user.
For those who want to get away, it simply may not be possible.
"With the influx of big data, we're going to see other scenarios like this one," Lieb stressed, "but it will still cause concerns and reservations."