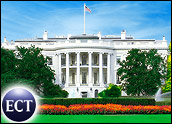 Hoping to boost confidence in electronic voting, the U.S. Election Assistance Commission (EAC) has voted to create standards for the certification testing of the often-controversial e-voting machines.
The commission voted Thursday to adopt the Voting Systems Testing and Certification Program, a manual focused on evaluating and certifying e-voting machines.
Security Standards
Machines that fail to meet standards for security, among other factors, will be de-certified by the commission. The program is meant to hold e-voting vendors, many of whom are under fire for past problems and a perceived lack of security, accountable for the systems they sell to local jurisdictions.
The EAC said having federal standards is consistent with the 2002 Help America Vote Act, which was put in place to answer concerns raised by the 2000 elections, when many believed votes in Florida, which tipped the presidential election toward George Bush, were uncounted or counted incorrectly.
"Election reform has made great improvements," said Paul DeGregorio, the commission's chairman. "EAC's new testing and certification program is one more step in the federal election process to ensure the integrity and reliability of voting system operation."
The 74-page manual details the process the commission will follow for certifying voting machines, and is based in part on the agency's review of the 2006 elections, which once again saw e-voting under fire in many jurisdictions.
Critics of electronic voting machines say they are subject to hacking and human error, and say they deny voters the chance for an accurate recall if results are in dispute because in many cases, machines do not create a paper record of votes cast.
Voluntary Testing
For now, the testing program is voluntary, though a number of states have mandated that vendors have their machines federally approved before putting them into use.
To improve the testing process, the EAC is having a technical committee work on new specific guidelines for the machines. An updated version of those guidelines is due to be prepared by next summer, though it isn't expected to be finalized before 2009. Many states are hoping to have enough time for testing and certification to be completed in advance of the early 2008 presidential primary elections.
It's not clear whether the standards will require so-called "direct" voting machines to create a paper trail of votes cast, but that is being considered, the commission said. In fact, the Technical Guidelines Development Committee recommended in a report released earlier in the week that paperless voting be eliminated.
Though several election jurisdictions experienced high-profile disputes over e-voting in the September primaries and November mid-term election cycles, the EAC said that of the 6,700 districts allowing e-voting, 102, or 1.5 percent, reported problems.
Still, with close elections in states such as Virginia helping to tilt the balance of power in the U.S. Senate, the accuracy of e-voting is again an issue for many activists.
Open Debate
By and large, e-voting machines appear to have worked with relatively few incidents during the November election cycle. However, in Maryland, some machines malfunctioned and caused long lines and other problems, including a run on paper-based absentee ballots. Voting rights groups urged voters to use the paper ballots to ensure their votes would be counted and, if necessary, could be re-counted.
Meanwhile, Diebold Election Systems disclosed that some of the code securing its voting boxes had been leaked. In addition, security researchers published a report saying that many machines could be hacked, a report that the industry has disputed.
Requiring printed confirmation of e-votes would be a huge step toward building confidence in the new technology, e-voting expert Avi Rubin, who has studied electronic voting under a National Science Foundation grant, said. In fact, the inability to confirm that votes are recorded accurately is one of the primary flaws in electronic voting, which Rubin compares to transferring money using an ATM and not getting a printed receipt.
"Without paper ballots that can be physically examined, the only recount possible is a review of the votes recorded by the machine itself," he explained. "If those votes were recorded incorrectly, no recount will fix the error. The incorrect result could never be detected, much less corrected."