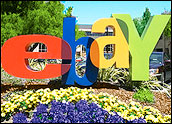 A strong holiday season rife with hard-to-find gifts helped push eBay to a record fourth quarter, with revenue up 29 percent and profits up 24 percent as the online auction giant soundly beat forecasts and boosted its outlook.
eBay said revenue was US$1.72 billion compared to $1.33 billion in sales in the last quarter of 2006, edging out analyst forecasts of $1.67 billion. Sales for the full year were just under $6 billion, up 31 percent.
Fourth quarter profit was $346.5 million, also slightly higher than most forecasts.
A Pivotal Year
The rise was driven largely by the core auction and fixed-price platform, where some $14.4 billion worth of goods were sold, a 20 percent year-to-year increase. Many buyers turned to eBay in search of hard-to-find holiday gifts, such as the Sony PlayStation 3 and the Nintendo Wii, which were selling at a significant premium on eBay.
In a conference call, eBay CEO Meg Whitman said 2006 was a "pivotal year" for the company, as it made adjustments to improve conversion rates on sales and auctions alike and moved closer to fuller integration of some of its acquisitions, such as VoIP firm Skype and shopping search engine Shopping.com.
"We are extremely well positioned to capitalize on our many assets, but there are also areas which will require time and attention in order to accelerate the business," she said. "Improving the user experience across all our businesses is a top objective this year."
eBay shares soared in after hours trading following the release, rising 13 percent. In early trading Thursday, eBay shares were up more than 11 percent to $33.34.
Hype and Skype
eBay's outlook was equally upbeat. First quarter revenues were forecast at $1.67 billion to $1.72 billion. Full year revenue was estimated at $7.05 billion and $7.3 billion, slightly higher than current analyst projections.
"eBay is at the early stages of a multi-quarter period of stabilizing-to-accelerating growth," Goldman Sachs Internet analyst Anthony Noto wrote in a research note.
The company said it added 3.6 million new users in the U.S. last year, bringing its domestic total to 97 million users, slightly less than half of its 222 million worldwide users.
Whitman highlighted eBay's Skype division, saying the online voice program tripled its user base during 2006, which put "distance" between it and a "whole host of competitors."
Revenue from Skype was up 150 percent to $66 million, though Whitman acknowledged the growth has been slower than eBay had hoped when it bought the firm in the fall of 2005 for around $4 billion.
PayPal solidified its position in the marketplace, with more eBay sales using the payment system as well as a growing number of Web merchants, said Whitman.
PayPal, which saw revenue rise 37 percent in the fourth quarter, has seen several new competitors launch over the past year, including Bill Me Later and Google Checkout.
Many analysts have questioned how some of eBay's recent purchases fit into its longer-range plans. eBay has continued to make acquisitions, most recently by scooping event ticket reseller StubHub for $310 million.
In the conference call, Whitman said that purchase was a good fit for eBay, where ticket sales have long been a major part of its auction business.
eBay also expanded an ongoing stock buyback program, committing to spending up to $2 billion more on its own shares this year and next.
Good News for E-Commerce
eBay's results appeared to be "very strong across the board," JupiterResearch analyst Patti Freeman Evans told the E-Commerce Times.
eBay continued to have strong performance from international markets but that the U.S. was holding own as a percentage of the overall sales, she added.
The company's long-term plan to integrate Skype is "still coalescing. They've gotten some nice increase in subscriptions," Evans noted. "It's still going to take a little time to see the wholeness of that integration and how it benefits eBay users. The sellers may be starting to adopt Skype, but to make it work, buyers have to be onboard, as well."