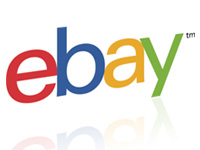 eBay is enjoying a surge on Wall Street in the wake of last week's analyst day, when it reassured Wall Street and investors that growth from its core Marketplaces and PayPal businesses was on track. It was the first time since 2011 that analysts had gathered at the company's San Jose, Calif., headquarters. CEO John Donahoe reportedly told those in attendance that by 2015, the company would enable US$300 billion in global commerce, up from $175 billion in 2012.
Increasingly, the action will take place away from the traditional desktop, as more users will be buying and paying for goods via their mobile devices.
"eBay has made a lot of progress in changing both buyer and seller perceptions of the Marketplace," said Colin Sebastian, a senior research analyst covering the Internet for Robert W. Baird & Co.
"Five years ago, it was uncool to shop on eBay, and many sellers were cutting ties and moving to the Amazon Marketplace," he recalled.
"Today, eBay is in the middle innings of a turnaround, which includes an improved user interface, a better buying experience and customer service, and a performance-based fee structure for sellers," Sebastian told the E-Commerce Times.
eBay will report its earnings on April 17.
From Auction House to Mobile E-tailer
eBay "has invested very heavily in its mobile apps and has done well in that area," Greg Sterling, principal analyst at Sterling Market Research, told the E-Commerce Times.
Enlarging its footprint in mobile could be necessary for eBay to break away from its image as an online garage sale and win full consumer acceptance as a virtual shopping mall.
eBay expects mobile transactions to reach $20 billion in 2013, according to Baird.
Still, it is overshadowed by Amazon.com, which it lags behind in spite of making the shift from a mom-and-pop auction house to a marketplace dominated by larger vendors.
It hasn't "successfully transformed its image at this point into that of an online retailer like Amazon," Sterling added. "eBay does have a strong opportunity in online retail, but there need to be a number of changes for the company to make that transition."
"There is more work to be done. For example, eBay still needs technology improvements, such as a better search engine," said Baird's Sebastian.
"Mobile is important for eBay, because they were an early leader in mobile commerce, and this has helped the company to reaccelerate growth, and to recast the brand in the eyes of consumers," he added.
"As local commerce becomes increasingly integrated with online shopping, we also see mobile becoming the centerpiece of the shopping experience, rather than just a noisy side show," Sebastian said.
PayPal It Forward
In addition to $20 billion in mobile sales, Baird forecast mobile payments via PayPal to top $20 billion.
"PayPal is driving growth at eBay," said Josh Crandall, principal analyst at Netpop Research. "The grandfather of online payment systems, the Paypal brand continues to thrive as more consumers are turning to Internet sources for physical and digital goods — not only in the U.S., but around the world."
PayPal has already allowed eBay to essentially "double dip" with each sale on the auction site. The company gets fees not only when an auction closes, but also when the seller receives the money via PayPal.
"PayPal is almost single-handedly responsible for eBay's recent success," added Sterling.
PayPal's role going forward thus can't be understated. "PayPal has not contributed much to the Marketplace renaissance," said Sebastian, "although looking ahead, we expect there to be more synergies as eBay integrates with offline retailers and builds their global commerce platform."