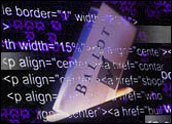 With millions of voters set to cast ballots in key mid-term elections in just over a week, a long-simmering controversy over voting machines continues to percolate. New reports suggest a major manufacturer of e-voting kiosks quietly repaired a flaw without informing election officials.
The case involves machines in Maryland, where, according to published reports, Diebold Election Systems quietly replaced flawed components in several thousand voting machines last year. The repairs were aimed at fixing a so-called "screen-freeze" problem discovered three years earlier.
Now, the state's Board of Elections is considering whether Diebold's failure to inform the board of those changes and what brought them about represents a violation of the company's contract with the state.
Diebold reportedly replaced motherboards on some 4,700 machines in a handful of Maryland counties. Maryland has been at the forefront of a movement to create broad access to e-voting systems and as a result has found itself in the spotlight of controversy.
Though e-voting has been billed as a way to avoid election problems such as the widespread uncertainty that came about after the 2000 Presidential election, when the electoral votes of Florida were held up while election officials counted thousands of questionable votes and mulled now-infamous "hanging chads" on paper ballots, the systems have plenty of critics who say they are subject to hacking and malfunction.
Some of the machines also do not create a paper backup of the votes, making it difficult if not impossible to conduct accurate re-counts in contested elections.
Key Test
Diebold's machines also caused controversy in September, when during Maryland's primary elections, many of the state's electronic voter-registration machines re-booted without warning. That problem has since been corrected, according to Diebold.
That issue was separate from the frozen-screen problem. While the frozen screens did not cause votes to be lost, they were said to have confused many voters, and left some wondering if their ballots had been counted at all.
The election meltdown in Maryland's primary has now made the failures of electronic voting undeniable. Some say the most responsible emergency step required to prevent further chaos and uncertainty in the November General Election is to give Maryland citizens the option of voting on paper ballots.
Maryland Gov. Robert Ehrlich Jr. on Thursday said the voting situation is "approaching crisis proportions" and expressed concern that the controversy may prompt some voters to stay home on election day, Nov. 7.
The issue unfolds amid continued controversy over whether e-voting systems are safe and secure. Earlier this year, a report suggested Diebold machines could have their central systems hacked into. Last month, a Princeton University professor said he had hacked the code for some e-voting machines and earlier this week, published reports said floppy disks containing Diebold machine code had been sent to some e-voting opponents in Maryland.
Diebold has repeatedly said its machines are safe and will work as planned on election day.
Disenfranchised Voters?
The "election meltdown" during the primary voting cycle has helped bring attention to the machine's shortcomings, said Linda Schade, spokesperson for a grass-roots group called TrueVoteMD. The state has invested tens of millions in the machines in the interests of improving the voting process, she noted.
Schade's group believes the Diebold machines should be "put aside" and voters given the option of using paper ballots. Doing so would ensure that results are "fully verifiable," she added.
Maryland is just one state that has moved forward with e-voting. Another advocacy group, Electionline.org, said in a recent report that Nov. 7 would likely bring "the possibility, if not certainty, of problems at the polls nationwide."
Electionline estimates that 66 million voters will be eligible to cast ballots on electronic, touch-screen machines. Some states that had expected to have them up and running have not met timetables to use them in this mid-term election, which could see control of both the House and Senate tip from the Republicans to the Democrats.