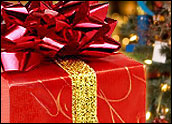 The anticipated online holiday shopping surge has yet to begin, according to a study released Monday by Nielsen//NetRatings (Nasdaq: NTRT), with top sites showing little or no growth in traffic during the first week in November.
The report, "Holiday E-Commerce Index," shows that key e-tail sites saw modest growth in traffic from the last week in October to the first full week in November. By comparison, the number of shoppers going online during the same period last year was up sharply.
"Last year's holiday shopping season began with a big bang right after people put away their Halloween costumes," said Sean Kaldor, vice president of eCommerce at NetRatings. "This year we are not seeing the same trends, suggesting that other factors took the focus off the impending holidays."
Sluggish Start
The initial burst of Web shopping in 1999 helped propel e-tailers into a record-breaking season.
For instance, traffic to consumer electronics sites was up 56 percent during the first week of November in 1999, but rose just 16 percent this year. The toys and games category, up 47 percent a year ago, remained basically flat in 2000. Apparel sites recorded 13 percent growth in 1999 and a 9 percent rise this year, while books, music and video stores rang up 13 percent last year and 5 percent in 2000.
One category did buck the trend, according to the study. Specialty gifts sites saw 12 percent week-over-week growth this year, compared to just 1 percent in 1999.
Early Bird Incentives
News of the lackluster start to the holiday season comes amid pushes by major e-tailers to get shoppers to buy early.
Amazon.com and other e-tailers have unveiled free shipping offers on purchases made before Thanksgiving. Those offers are designed to prevent a last-minute shopping crunch that could lead to a repeat of the holiday shipping delays experienced last year.
"The next two weeks will be crucial for e-tailers to drive up traffic if they are banking on a big holiday season to hit their revenue marks," said Kaldor.
With reports showing flat growth in August and September, many e-tailers are banking on a busy holiday season to cap the year. The most optimistic predictions peg U.S. online shopping at about US$12.5 billion this holiday season, a near-doubling of last year's spending.
Limiting Factors
The NetRatings study suggests several factors may be keeping shoppers at bay, at least so far.
First, the timing of several high profile dot-com failures — including MotherNature.com, Pets.com and Furniture.com — may have rattled the confidence of potential shoppers in name-brand e-tailers.
Second, the ongoing drama of recounting of votes in the U.S. presidential election may be distracting shoppers from focusing on the holidays.
The report also cites a decline in dot-com advertising on television and radio over last year as a possible cause for the slow start.
More Mature Web
Internal factors, including the overall maturity of the Internet — which makes large gains in traffic more difficult — also play a role, said Kaldor.
"Last year was the first consumer holiday shopping season on the Web where e-commerce sites skyrocketed in traffic as they established themselves," he said. "This year proves to be a tougher environment with an Internet matured."
A pool of five firms in each category were used to come up with the growth rates.
Individual E-tailers Slow, Too
There were equally stark differences among individual companies from last year.
BestBuy.com traffic was up 128 percent in 1999 and climbed 21 percent this year. eToys, up 55 percent last year, saw an increase of just 7 percent this year.
Traffic to Gap.com, which grew 34 percent in 1999, actually fell 10 percent this year.
Nielsen//NetRatings bases its figures on data collected from 70,000 Internet users in the U.S., including 8,000 at-work users.