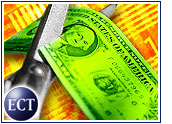 Dot-com layoffs are continuing to mount with no indications of a letup, according to a new report released Monday by Challenger, Gray and Christmas, Inc.
The outplacement company, which tracks daily job cuts in various sectors, found that layoffs at tech businesses climbed to 5,677 in October, an 18 percent increase from September.
October's numbers mark the fifth consecutive month of increases in job cuts, and layoffs reached their highest levels since Challenger Gray began charting such data in December 1999. Overall, 44 out of 274 Internet ventures — or 16 percent — have failed over the past 10 months.
Dot-com companies that provide consulting, financial and information services have trimmed the most from their payrolls, cutting over 8,100 jobs since December 1999. Firms in the online retail sector cut over 5,400 cuts during the same period.
Follow the Money
The upcoming holiday season will provide a crucial test for e-tailers who are hoping to remain operational — and possibly profitable — come the new year, said Challenger Gray.
"We've reached a point where many of the business-to-commerce retailers have been pointing to this holiday season [for when] they would turn the corner," company CEO John A. Challenger told the E-Commerce Times.
To boost their financial prospects, e-tailers must hone their delivery systems and bolster customer service in order to turn customers into satisfied repeat buyers, said Challenger. Online marketers must focus on "driving people into their doors, especially when their cash is tight," he said.
Making Adjustments
Some Internet businesses have shifted some of their investments away from marketing and advertising, which is "not as strong a revenue stream as companies hope," Challenger noted.
Nevertheless, Challenger Gray predicts that many e-tailers will not be able to tap into consumer demand and generate enough revenue during the holidays. These ventures will "fail and disappear," as they will be unable to substantiate their continued operation, the company said.
Some e-commerce firms stand to be acquired by traditional companies that are looking to integrate an e-commerce presence into their existing business model. Others will be purchased by other Internet ventures that are hoping to build enough revenue to survive the current shakeout.
Maintaining Morale
Another key determinant of dot-com success is employee satisfaction, the report found. After months of stock market volatility, tech workers are no longer banking on stock options to provide a windfall. Instead, employees are increasingly demanding monetary compensation for long work hours.
"If a company has been through layoffs, it's difficult to keep morale high," said Challenger. Internet businesses that are strapped for cash are therefore put in a difficult position since employees are looking to claim "a bigger piece of that pie," he said.
Challenger Gray also found that attracting "old economy" business-building experts is growing increasingly difficult for younger dot-com firms.
Venture Capital Squeeze
Since the high-flying tech sector was grounded in the spring after a dramatic market re-evaluation, many venture capitalists have issued directives to Internet firms to turn profits.
"Patience is much thinner on the part of VCs and shareholders at all companies," said Challenger. "With each new round of financing, these companies are being subjected to greater scrutiny."
Latest Dot-Com Casualties
Challenger Gray may see job losses reach new levels in the coming months, especially if the number of layoffs in the last week provide any indication.
On Monday, Stamps.com released 240 employees, or 40 percent of its workforce. Meanwhile, Drugstore.com laid off 60 employees on Friday.
High-profile health and beauty company Eve.com also closed up shop on Friday, laying off most of its 164 employees.