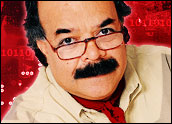 Millions of entrepreneurs and thousands of account executives from major ad agencies all over the world are losing their sleep these days, most sleepwalking in search of new names with some extra "OO"s to ride along with the success of Google's name.
During the day, they daydream about coming as close to this name as possible. Copy, modify or steal, who cares, as long it as sounds like Google. OOGLE, BOOGLE, FROOGLE, NOODLE, POODLE, CABOODLE, who cares? Just leave the Google brand name alone.
Look-Alike Names
Why do weaker creative brains have a tendency to steal in broad daylight, and why is big money spent in promoting look-alike names, despite knowing full well that these names are stolen from other famous brands? Is it really human nature or just sheer stupidity?
Unfortunately, they seriously lack the basic skills necessary to recognize The Three Golden Rules of Naming:
Rule One: Do not hide under someone else's umbrella, you will still get wet. Don't be a copycat. It is very bad to copy or borrow from an established identity. A look-alike, sound-alike name, resembling the personality of a powerful, established, legendary name would be fruitless in the long run. Stay clear of legendary names.

In the current battle with Froogle, Google has the full right to challenge as the spelling of frugal was changed to appear like Google's. Just like in the past, Apple, as in computers, faced copycats called, Pineapple, Banana and Cherry, but all perished in the copycat game. There were also Boohoos, UHOOs after Yahoo. Creative agencies love to steal. That is why there are ALTIVA, ALTIPA, AMTIVA, by the hundreds or ENGENT, PANGENT, and CANGENT. Ever wonder why most cars, beer, banking, medicine commercials are just the same? The corporations pay millions and do endless research that is all wasted in the end, as the resulting names or ads are always just the same. Surely, they are not all out of new ideas — or are they?

Rule Two: Creativity is a spark of genius. Over-creativity can cause fire and damage. Don't get too creative. Do not twist, bend, stretch, exaggerate, corrupt or modify alpha-structures to their extremes in naming. It might result in difficult, confusing, unpronounceable and only silly names. Avoid overly creative solutions. Studies have shown again and again that most ad commercials or strange branding themes and names, which surely win top awards from their peers, are simply shut out by customers. Next time, just check the top 10 most-awarded campaigns and their related sales performances. Here, raw creativity is rewarded whether it rings clients' cash registers or not.
Rule Three: Work locally, think globally and name universally. Do not short-change. No matter how small or local the project, think of the future and think of this small planet. A name is only good when it is free and clear to travel around the globe, without encountering translation problems or trademark conflicts. Name for the universe. Ninety-five percent of the corporate and major product names will fail a test of global protection and suitability. It is so easy to have a global name identity.
Clarity Needed
Global branding and rules of corporate branding in just about every sector are faced with the massive proliferation and commoditization of leading brands. This factor alone demands clarity in the name identity and a precise definition in the marketplace. Copying and stealing famous names is the first step to a big failure.
Globalization is at a serious crossroad. Nationalistic posturing is demanding localization of brands at a much faster rate. At the end of the day, global corporate nomenclature is the most sought after issue of any serious branding exercise. This process is not to be confused with name branding exercises that are primarily looking at global directories and stealing famous name ideas by changing a letter or two, all in the name of big branding.
Creative agencies should pack up all gear, leave the success of Google's name alone, and wake up and smell the coffee.
---
Naseem Javed
, author of
Naming for Power
and also
Domain Wars
, is recognized as a world authority on global nameidentities and domain issues. Javed founded ABC Namebank, aconsultancy he established a quarter century ago, and conducts executiveworkshops on image and name identity issues. Contact him at
[email protected]
.
---