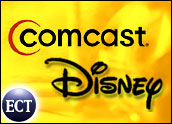 Disney jumped into the video-on-demand cable arena on Tuesday in a mega deal with Comcast.
The long-term distribution agreement, which includes 10 ABC-owned broadcast television stations and the Disney networks, extends the Disney-Comcast relationship into the next decade.
Content Galore
The deal will see hit programs from Disney Channel, ABC Family, Toon Disney, ESPN, ESPN2, ESPN Classic, ESPNEWS, ESPN HD and increased carriage of SOAPnet made available on demand. Comcast will also launch ESPN Deportes, a standalone Spanish-language sports network.
This is the first cable on-demand agreement for hit ABC prime time broadcast programs such as "Desperate Housewives" and "Lost."
The TV series-based video-on-demand programming will be available next fall free of charge.
Disney movies will cost US$3.99 each. Some of the new release titles available on Comcast's on-demand service beginning in 2007 include "Pirates of the Caribbean 2," "The Santa Clause 3," "Invincible" and "The Guardian." Library titles will still cost $2.99 each.
Comcast also announced that it acquired Disney's 39.5 percent ownership stake in E! Networks, which includes E! Entertainment Television and Style Network, in a $1.23 billion deal.
In addition, the companies said they will make promotional content from the Disney-ABC Television Group available on Comcast's broadband portal. In addition to its 24.1 million cable customers, Comcast has 11 million high-speed Internet customers.
"This agreement reflects our ability to distribute content on multiple platforms, and signals another first for Comcast and Disney as we continue to explore the evolving possibilities of digital technology," said Brian Roberts, chairman and CEO of Comcast.
Disney's Aggressive Distribution
The deal also reflects Disney's commitment to distributing its content over new and different channels, according to Yankee Group analyst Mike Goodman.
"It's safe to say that Disney is the most aggressive programmer out there in terms of finding new distribution channels," Goodman told TechNewsWorld. "Disney was the first one on all of these digital platforms, including iTunes."
Though Disney is a market leader in digital distribution of its content, the company isn't forging into new territories for altruistic reasons, Goodman noted. Disney is looking for new revenue streams — among them, the Comcast licensing agreement.
Terms of the deal were not disclosed.
Diversified Content
The Disney content will join Comcast's library of more than 8,000 video-on-demand programs per month, including hundreds of hit and classic movies, music videos and specials, kids' shows, sports highlights, and news and informational programs.
Comcast's on-demand service allows customers to select programs and play, fast-forward, rewind, pause and restart their choices as many times as they want to within a 24 hour period. Comcast's biggest challenge so far as been a lack of new content, Goodman said.
"This is precedent setting, because Comcast is getting prime time programming. It's the equivalent of AAA content here. This is stuff that is going to drive consumers to watch it," Goodman said. "Arguably, this is the absolute best delivery platform — because in a closed network, you don't have to worry about buffering and jitter."