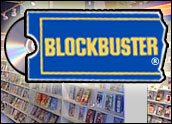 Dish Network on Wednesday announced that it will close its 300 remaining Blockbuster stores by early January and will end its Blockbuster By Mail service by mid-December 2013. The company cited increased competition from digital and on-demand entertainment.
Dish acquired Blockbuster in April 2011 for US$320 million. At the time, it announced that it would keep 90 percent of the stores in operation and retain 15,000 employees. However, the company later announced that it would examine the stores on a case-by-case basis, and in January of this year announced that it would close 300 stores.
About 50 U.S. stores operated by franchises will remain open, but Dish will close all of its U.S. distribution centers. About 2,800 employees will now be laid off.
The Blockbuster Brand
"This is not an easy decision, yet consumer demand is clearly moving to digital distribution of video entertainment," said Joseph Clayton, Dish's president and chief executive officer. "Despite our closing of the physical distribution elements of the business, we continue to see value in the Blockbuster brand, and we expect to leverage that brand as we continue to expand our digital offerings."
Dish will retain licensing rights to the Blockbuster brand as well as key assets that include the company's significant video library.
The company now plans to focus on delivering the Blockbuster @Home service to Dish customers. That service currently offers more than 15 movie channels including STARZ Cinema, EPIX, Sony Movie Channel and Hallmark Movie Channel as well as more than 20,000 movies and TV shows streamed to TVs, computers or iPads.
'The End of the Line'
"This looks like the end of the line for the Blockbuster brand, which really stands for transactional movie rental," Joel Espelien, senior analyst at The Diffusion Group, told the E-Commerce Times.
"Blockbuster is a problematic brand in that it's associated with a legacy means of distributing content," noted Greg Ireland, research manager for multiscreen video at IDC. "While Dish may seek to continue to leverage it, the closing of its remaining stores simply underscores how legacy it is."
That, in turn, raises the question of how wise Dish's acquisition was to begin with given that by then the brick-and-mortar store business had already "fallen apart," Colin Dixon, principal analyst at nScreenMedia, told the E-Commerce Times.
"We've seen the physical DVD rental market collapse, and that isn't going to recover," Dixon added. "The kiosk business is sufficient for those who want to rent DVDs, and you certainly don't need a storefront."
For this reason, "one area where you could see it return would be if a second player tried to enter the kiosk rental business to compete with Redbox," Espelien suggested. "Blockbuster would be a really strong brand for such a service, and it would be much better than trying to start from scratch."
'The Brand Ultimately Fades'
For now, however, it appears that Dish will rely on the Blockbuster brand for its online offerings, notably Blockbuster @Home.
"When they introduced Blockbuster @Home they said they were going to make it so that people could subscribe to that without a Dish subscription," Dixon noted. "They haven't followed through, but they could be looking to follow through now with that and use the Blockbuster brand to do it."
There is also a challenge within the pay TV market "to more effectively position services as being cutting-edge in light of competition from OTT services," Ireland told the E-Commerce Times. "Brand is only part of that — Comcast chose to adopt Xfinity, Verizon has FiOS, AT&T has U-verse, but others are still known as they've always been known.
"The challenge, therefore, is to offer compelling services across multiple screens at a competitive rate with great user experiences," Ireland added. "Some of the Blockbuster acquisition was less about the brand and more how Blockbuster's services could be added to Dish services to create compelling offers."
In the end, however, "there really wasn't much that Blockbuster brought to the table," he noted. "The Blockbuster brand ultimately fades as transitions in the consumer market continue. Indeed, it had already begun to fade when Dish made the acquisition."