Digital photo frame products surfaced briefly during 1999 to 2001 and created significant market buzz, but not meaningful sales. Subsequently, two out of the six vendors, Digi-Frame and Weave Innovations, went out of business; Sony and Kodak exited the market; and VideoChip scaled back and changed focus.
Only Ceiva Logic survived, though it spent the next three years in the doldrums.
Then, however, the digital photo frame market showed signs of life in 2005. Pacific Digital entered the market in 2002 and became the leader in the industry based on shipment volume in 2005. A slew of new ventures, including office supply vendor Royal Consumer Products, video conference equipment maker Vialta, and mobile computing device manufacturer Ziga USA, joined Pacific Digital and Ceiva in 2004 to 2005 to explore market opportunities.
Large companies also returned to the market. Royal Philips launched its digital photo frame products in summer 2005 in Europe, and in the U.S., Westinghouse introduced the product at the beginning of 2006. Polaroid entered the market toward the end of the busy 2006 Christmas shopping season. Finally, in March 2007, digital imaging giant Kodak formally relaunched the product line globally, pushing competition to a new scale.
By any measure, 2006 was a watershed year for the digital photo frame market. Sales in the first half of 2006 inherited the normal growth curve that most vendors saw over the previous two years: steady increases of over 25 percent on a year-over-year basis. However, during the second half of 2006, especially the fourth quarter of 2006, sales skyrocketed to a record level, with most vendors reporting triple digit unit growth on a semi-annual basis. Volume was particularly strong for the 5- to 6-inch and the 7-inch categories during the fourth quarter. The European market for digital photo frames was spearheaded by Philips, a global consumer electronic brand with a particularly strong influence in Europe. Total sales volume in Europe increased nearly as much as in the U.S.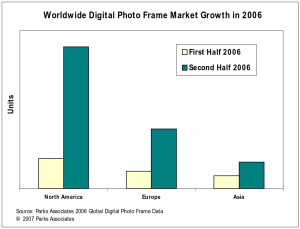 (click on image to enlarge)
Drivers Behind Growth
The explosive growth of the digital photo frame category in 2006 was a result of several favorable factors that had a multiplying effect on end-user demand. These drivers include:
Consumers showed strong interest in digital photo frames as a unique gift. As enthusiasm for an MP3 player as a holiday gift waned, gift shoppers began looking for something new and unique in 2006.
A digital photo frame helps free consumers' personal content from PCs, digital cameras and memory devices. The frame fulfills this need by allowing consumers to easily glance through the captured moments of their lives just like they did previously with photo albums and scrapbooks.
Easily-understood concept and simple operations. The "plug and display" operation, usually involving only three or four steps, is by no means intimidating for even the least tech-savvy users.
Key components are manufactured with maturing technologies, so cost can be brought down quickly. LCD panels, silicon chipsets and flash memory are all commodities today. As order volume rises, component manufacturers can leverage the economy of scale to offer them at substantial discounts.
Momentum interest from retailers of all kinds in Q4 of 2006: Word about successful market trials got out quickly in mid-2006, and predictions that the photo frame could potentially become a hit category during the Christmas shopping season began circulating among merchandise buyers and planning managers from the retail sector in the late summer.
Consumer Perspectives
Household penetration of digital photo frames was extremely low in key industrial countries prior to 2006. Even after a booming 2006, ownership is still close to that level with early technology products like digital media adapters, media servers, portable GPS devices and portable video players.
Confirming a long-held belief among most vendors, the majority of digital photo frames were purchased by gift shoppers. Consumer survey data indicated that more than two-thirds of the frame owners in the U.S., the UK and Germany received the product as a gift in 2006. Bucking the trend were French consumers, who were equally likely to buy frames for their own enjoyment. The specific occasions for which the photo frame was given as a gift included birthdays and Christmas, while impulse gifting (defined as giving gift for no particular reason) also played a key role in bolstering sales of the product category.
Were consumers happy about their purchases or gifts? Although the proportion of owners showing extreme dissatisfaction was low, the proportion giving high marks to digital photo frames was not large either. The majority of the consumers in the four countries surveyed gave it an "OK" grade. What consumers said in the survey was verified by retailers, who reported below-average product return rates for this category. We surmise that ownership of the frame resulting from receiving it as a gift helps soften the urge to return the products even though the gift recipients might be dissatisfied with some of the functionalities and features.
Will the Run Continue?
The stellar performance of digital photo frames in the fourth quarter 2006 boosts hope among vendors and retailers that sales of this product category will reach a new height in 2007. There is little dispute about such a projection, but the rate at which the performance will grow in 2007 and beyond remains a mystery.
While Parks Associates will continue to gather market intelligence via consumer surveys and vendor/retailer interviews on a regular basis, and offer the findings in our quarterly market tracking program throughout 2007, we provide some food for thought on these issues below.
In our view, the digital photo frame has firmly established itself as a viable product category in the retail sector; therefore, we do not believe that retail channel cooperation will be an obstacle in 2007. We also expect 2007 to continue to be dominated by repeat gift purchasers. Lastly, based on our channel check, the supply bottlenecks of the most popular LCD panels are expected to ease gradually in the remaining months of 2007.
Overall, we remain very bullish about the long-term market potential for digital photo frames. We raised our global forecasts of unit sales in June 2007 and now are expecting substantial increase in unit sales through 2011.
---
Harry Wang
is a research analyst for
Parks Associates
. E-mail him at
[email protected]
.
---