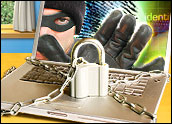 Digital Insight, a provider of outsourced online banking services, in 2007 will begin offering its on-demand consumerInternet banking and business banking clientsEntrust's TransactionGuard, a real-time transaction monitoring and fraud detection service.
Entrust's solution is designed to helpsecurity administrators among Digital Insight's financial client base to proactively monitor transactions and receive alerts concerning potentially fraudulent online activity.
"Entrust TransactionGuard will help our financial institutions better detect, adapt to and defend against potentially fraudulent transactions without disrupting the end user experience," said Scott Mackelprang, Digital Insight's vice president of security and compliance.
"Adding transaction-monitoring capabilities to our 'Deep Defense' security strategy provides yet another layer of user protection that will help our clients ensure their users' peace of mind," he said.
"Through this relationship, more than 1,750 financial institutions now can procure and take advantage of Entrust's TransactionGuard and help shore up their defense against cybercrime," added Bill Connor, chairman, president and CEO of Entrust.
"Adding back-end fraud detection to Digital Insight's strong authentication measures helps enable risk-based authentication, giving Digital Insight customers a powerful combination to strengthen protection of users online," he added.
Deep Defense
Digital Insight claims to be the largest provider of outsourced Internet banking services in the U.S.
The company offers financial institutions the ability to maintain more than 100 interfaces to core processing platforms, which lets clients integrate their core systems with hundreds of products and services from Digital Insight's more than 175 technology partners.
"One of the strengths of our on-demand model is [the] ability to bring leading capabilities to clients with greater technological and economic benefits than a financial institution could achieve alone," said Jeff Stiefler, Digital Insight's chairman, president and CEO.
Adding TransactionGuard to its on-demand online security services is part of Digital Insight's Deep Defense strategy, which addresses IT security across four key areas: systems, partnerships, operations and architecture.
The resulting security systems environment is based on a layered security methodology that deals with prevention, detection, correction and reporting of both potential and actual fraud.
"Digital Insight had been looking into enhancing the transaction-monitoring capabilities of our security environment for approximately one year," Mackelprang told the E-Commerce Times.
"During that time, we have worked with Entrust to develop a solution that would meet our needs as the leading on-demand banking solutions provider," he explained. "Combining transaction-monitoring with multifactor authentication further strengthens the layers of security protecting Digital Insight client financial institutions and their end users."
Entrust's TransactionGuard monitors all online client sessions and transactions in real time, looking for "fraudulent behavior and access patterns by translating transactional data into intelligible information about user behavior. This information is then analyzed by the product to detect dynamic behavioral patterns that help indicate if an activity is fraudulent," according to Entrust chief strategist Peter Relan.
Real-Time Fraud Protection
TransactionGuard emerged from Entrust's July 2006 acquisition of Business Signatures' online fraud detection software technology, Relan told the E-Commerce Times.
"Entrust believes that fraud detection is a critical part of the solution for battling online fraud," he noted, "and, after extensive research, [we] selected Business Signatures. It was clear to Entrust that not only had significant investment been made in developing the technology, [but that] it had been proven in customer environments and was backed by a team with extensive industry experience."
TransactionGuard is already in use at Citibank, H&R Block and US Bank, according to Relan, who added, "It has gone through sophisticated preproduction testing to fit into Digital Insight's on-demand model, including customer pilots."
"Internet fraud continues to increase in every business sector, and financial services is no exception. As certain exposures disappear due to multifactor authentication, we anticipate seeing exploit attempts that are much more customized to a particular victim," Mackelprang said, explaining Digital Insight's underlying rationale for adding the Entrust technology to its security systems environment.
"Online banking transaction fraud is growing rapidly due to the huge amount of identity theft that has occurred in the last couple of years," Relan added.
TheCyber Security Industry Alliance estimates that the identities of over 100 million Americans have been compromised to date, and that a significant portion of those exposures have led to online monetary fraud, he claimed.
Multi-Tenant Services
TransactionGuard monitors online banking customer sessions in real time in what Entrust describes as a "zero touch" manner. "That is, it does not require customers to modify their own applications and does not impact transaction system performance at all," Relan explained.
"In addition, it does not touch either transaction applications or databases, working by monitoring Web traffic coming into the DMZ. This is of tremendous value for [customers], as it allows them to deploy the solution quickly, without the traditional cost and risk of rewriting existing applications," he added.
As it monitors online banking sessions, TransactionGuard can also apply a set of out-of-the-box best practice rules against incoming traffic in order to identify suspicious transactions, raise alerts and generate risk scores for risk-based authentication without compromising systems performance.
In addition, the application has a "self-learning" profiling engine that builds "typical" individual transaction profiles that can be used to identify deviations automatically.
The ability to run TransactionGuard in a shared, multi-tenant systems architecture was important to Digital Insights.
"Transaction Guard has a 'multi-tenancy' capability so that a single, shared implementation can be deployed while providing separation at the individual financial institution level. This is critical for customers like Digital Insight, [which hosts] banking solutions for multiple institutions," Relan explained.
"We are implementing hardware in our data center and offering our clients the opportunity to purchase tiered packages of the solution to enhance their security," Mackelprang said.
"The hardware and software fits our on-demand model — we are able to implement the system in our data center without having to customize it for each client that wants it," he added.