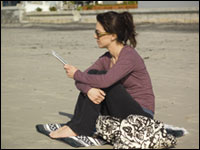 Hachette Book Group, HarperCollins Publishers and Simon & Schuster have agreed to pay a total of more than US$69million to consumers to resolve antitrust claims of alleged unlawfulconspiracy to fix the prices of electronic books. The three companiesfurther agreed to change the way their e-books will be priced.
The three publishers settled with 55 attorneys general in nearly every U.S. state and the District of Columbia, as well as several territories.
"While publishers are entitled to their profits, consumers are equallyentitled to a fair and open marketplace," said Connecticut AttorneyGeneral George Jepsen on Thursday. "This settlement will provide restitution tothose customers who were harmed by this price-fixing scheme, but italso will restore competition in the e-book market for consumers'long-term benefit."
This is the latest turn in a lawsuit that stemmed from a two-year investigation conducted in part by the U.S.Department of Justice's Antitrust Division. This settlement doesappear to close the case with the three aforementioned publishers.
"We believe this is a fair settlement," said Adam Rothberg, a spokesperson for Simon &Schuster. "We're pleased to now have put this matterbehind us, and moving forward, to continuing our work with authorsand accounts to grow the market for books of all formats — and to takeadvantage of the many opportunities afforded us by publishing in thedigital era."
And Then There Were 3
However, three other parties include publishers Penguin and MacMillan,as well as Apple, and a case remains pending in the SouthernDistrict of New York. The question now is what happens next.
"A couple of things are at work here. First and foremost is theargument about whether Apple and the six publishers fixed the pricingof e-books in order to challenge Amazon but which, in fact, wereessentially anticompetitive," said Charles King, principal analyst atPund-IT.
"The three who settled apparently decided that the payout –$69 million spread across 50 states — was less onerous than pursuing a legalcase that could result in higher legal costs and penalties, as well asmonopoly sanctions," he told the E-Commerce Times.
"Those are the literal risks facing Apple and the three remainingpublishers being investigated by the DoJ, but they could also sufferthe public humiliation and professional impact of being legallybranded as monopolists," King added.
Yet it is very unclear what the public might make of this.
"Apple is so beloved by so many people that the company may be able toride out even a conviction by repeating their novel claim that theywere simply trying to halt the loss-leader book pricing by Amazon thatApple claims is corroding the e-book market," King explained.
"But I doubt that the publishers that are sticking with thesuit will fare as well," he continued. "To date, the success of online commerce hasmainly proved that American consumers love their bargains, so it seemsunlikely that they will harbor much sympathy for those colluding tokeep the prices of goods artificially high."
Price of E-Books
The other part of the equation is what the settlement even means. How wille-book pricing policies change? This is still an unknown, especially with the New Yorkcase is still pending.
"The devil is in the details," said Billy Pidgeon, principal analystat M2 Research. "There are a lot of issues with the pricing of digitalmedia. There are expectations that digital should be priced morecheaply as there are no manufacturers. But this really hasn't been thecase."
Given that the three publishers have settled, it could be expected thatpricing will sort itself out. But consumers shouldn't expect tosuddenly see prices fall for that next hot bestseller.
"The market will work itself out there," Pidgeon told theE-Commerce Times. "As far as competition, there really needs to befixed pricing on these items — but let's face it, there is pricecollusion in every industry."
What could happen is that Amazon will be charged the same for e-booksas smaller retailers, but Amazon could still offer better pricing to customers. If that's the case, has much really changed?
"Amazon can still compete with margins, but publishers can't orshouldn't give Amazon a better deal," emphasized Pidgeon. "This isstill going to be Byzantine in how it is worked out."