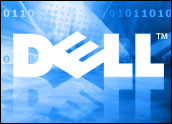 Today's cloud computing phenomenon is causing havoc among many legacy hardware and software vendors who worry that the increasingly competitive market is going to cannibalize and commoditize their traditional products and services. One company that may sit in an advantageous position is Dell.
I've long believed that Dell could capitalize on the cloud computing marketplace because of its core competencies and value propositions. It has been in the vanguard in designing and delivering low-cost, highly automated systems and servers that are easy to deploy and manage. It has always been expert at interacting with its customers on a rapid transaction basis via the Web. And it has expanded its portfolio to include storage, security and virtualization solutions. These are all attributes and technologies that are key ingredients in the cloud environment.
In fact, Dell's systems are at the heart of Google's infrastructure (i.e., the "Googleplex"), and support Microsoft's Azure Platform as a Service (PaaS).
Yet Dell has not been generally viewed as a cloud computing leader in comparison to Amazon or Rackspace's Infrastructure as a Service (IaaS) offerings, or IBM's and HP's cloud promises.
Successful Integrations
I recently had an opportunity to attend Dell's annual analyst conference in which the company's key executives, including Michael Dell, discussed their rapidly evolving cloud strategies and solutions. The company is refocusing its business processes, products and expanding service portfolio on delivering a widening array of horizontal and industry-specific cloud computing capabilities.
In fact, many of these initiatives are being led by its recent acquisitions. For instance, Compellent is playing an important role in the company's rapidly growing storage services. Secureworks is a pivotal part of Dell's security services. Kace is quickly becoming a centerpiece of Dell's system management capabilities. And Dell is using Boomi not only to help its customers more quickly integrate their on-premises and cloud-based applications, but also to improve its own internal operations.
I wasn't a fan of Dell's acquisition of Perot Systems when it was first announced, because I thought it was a vain attempt to try to imitate the old-style outsourcing services provided by CSC, IBM and HP/EDS. In my view, the inflexibility of traditional IT outsourcing made it a relic of the past, and it was quickly being undercut by the hyper-elasticity of cloud computing services.
I also thought at the time that Dell would have a tough time integrating Perot Systems' high-end consultants into its high-transaction corporate culture.
Weakness Becomes a Strength
Dell is proving me wrong as it leverages Perot Systems' extensive experience with complex systems and software, and industry-specific domain expertise to strengthen Dell's position among enterprise customers. Now Dell is packaging vertical market cloud solutions that combine its technological and consulting capabilities in specific industries, such as healthcare.
In addition, Dell's acquisitions combined with its organic development efforts are giving the company a substantial software complexion to go along with its systems and services capabilities.
In many ways, Dell has been able to convert a weakness — its lack of traditional systems and software aimed at enterprises — into an opportunity to build a new generation of more flexible, automated and cost-effective cloud solutions to address the changing needs of today's enterprise executives and end-users. It doesn't face the same legacy technology or go-to-market issues as the other major players.
As a result, Dell can make more aggressive moves to become a key player in the cloud computing marketplace without the same obstacles to success.