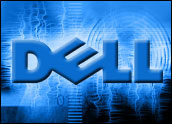 Dell said its first-quarter earnings and revenue would be lower than previously forecast, a direct result of price cuts made to help it retain market share amid stepped-up competition.
The one-time Wall Street darling saw its stock price take a significant hit, with shares dropping 6 percent in early trading to US$24.90. In addition to being a new 52-week low, the price would represent a three-year low if trading closed in that range.
Round Rock, Texas-based Dell said it now expects revenue for the quarter to come in at $14.2 billion, the bottom of the $14.2 billion to $14.6 billion range it provided when it released fourth-quarter earnings. Earnings were projected at 33 cents, below the earlier forecast of 36 to 38 cents.
Dell said the new guidance was driven by "pricing decisions" in the second half of the quarter, moves that the company believes will pay off in the form of higher revenue growth in the longer term. Dell is scheduled to report earnings on May 18.
"We continued to execute on our strategy to reinvigorate growth by making investments in our support infrastructure and product quality and by accelerating pricing adjustments," said CEO Kevin Rollins. "We are committed to delivering industry leading value to our customers, which ultimately results in industry leading growth for the company."
Market Share Slippage
The price cuts Dell put in place are seen as a response to similar moves made by competitors, who have as a group moved much closer to Dell's streamlined, highly efficient direct-sales-based business model in recent years.
Dell was once seen as uniquely capable of being profitable while selling machines with low price tags. More recently, Hewlett-Packard, with new CEO Mark Hurd focusing on the company's organization, has gained traction against Dell, and new competitive threats have emerged from overseas, as China's Lenovo has beefed up with its purchase of IBM's PC line. A revived Apple, which has begun to roll out its Intel-based PCs, may also chip away at Dell's market share over time.
Dell maintained its worldwide market share lead in the first quarter of 2006, according to research firm Gartner, holding 16.5 percent of the overall PC market, with HP second at 14.9 percent. Dell's share of the market slipped while HP's climbed slightly in the quarter, Gartner said.
Many vendors cut prices late in the fourth quarter of 2005 and early this year, helping to drive a surge in worldwide PC shipments that surprised analysts in the first quarter, noted Gartner analyst Charles Smulders.
"Several vendors were selling desktops for as little as $299," Smulders said. "With that rock-bottom pricing, there isn't much room for competitors to go lower."
Growth Prospects
Dell may be forced to re-examine its business model and market approach now that some competitors have begun to match it on cost-cutting, Smulders added. HP is complicating such strategic moves, however, by gaining traction in high-end sales of servers and desktop machines to enterprises as well as in the consumer and small business and consumer spaces.
"Dell still has a world-class business model, but that isn't as much of an advantage as it used to be," he added. "Others have caught up."
Some stock analysts were taken back by the timing of the warnings just over a week before Dell announces earnings. Forecast adjustments typically come sooner, often before the quarter in question even ends.
The warning "raises more questions concerning the overall business model and decelerating growth rates," Robert Baird analyst Daniel Renouard wrote in a research note.
Others, however, believe the recent stock price free fall represents a buying opportunity, with Dell eager to adjust the expectations of analysts and investors after missing Wall Street projections in each of its last two quarters.