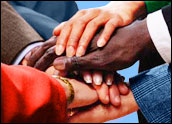 Dell on Monday added office superstore Staples as another partner to its growing roster of retailoutlets as it changes its strategy in a bid to grab back lost marketshare.
Staples will sell selected Dell desktop and notebook PCs as well as printers and accessories in 1,400 of its stores nationwide and on its Web site beginning next month.
"With Staples, we are underscoring our commitment to listen to customers and deliver what they want," said CEO Michael Dell. "We're bringing all the benefits of direct to shoppers across America."
Coming Soon
The first wave of Dell products to appear on Staples shelves will include Inspiron desktop and notebook models, and Dell all-in-one inkjet machines and laser printers, as well flatscreen LCD (liquid crystal display) monitors.
"We know our customers will appreciate the ability to see, touch and immediately take Dell products to the home or office," said Staples CEO Ron Sargent, who said the chain will become Dell's first comprehensive retail partner in the U.S.
Dell shares rose almost 1 percent in afternoon trading Monday to US$28.15.
Zero to 10,000
With the Staples locations on board, Dell machines are now available in 10,000 stores worldwide. Almost all of those outlets have been added in the past few months, starting with a partnership with Wal-Mart announced over the summer. Dell billed that move — which includes specially made machines — as a trial run. The company quickly followed this deal with a sweeping partnership to get its PCs into dozens of Gome department stores in China.
The moves are part of a major shift for the company that built its reputation and its once No. 1 market share on the strength of its direct sales model. Using only the Internet and telephone to sell, Dell was able to drive out some of the costs that rivals had built into their distribution channels and, combined with a streamlined supply chain, the company was able to sell its machines for less for a time.
More recently, however, the competitive landscape has changed. First, a reinvigorated HP began grabbing market share and, more recently, PC makers based in China and Taiwan have used their lower cost structures to undercut Dell on price.
The retail initiative is part of Michael Dell's efforts to turn around his namesake company, a push that has also included renewed investment in customer service.
"Dell realized there were limits to how far it could take its direct model," Endpoint Technologies Associates Analyst Roger Kay told the E-Commerce Times. As PCs continue to drop in price and are affordable to more consumers, some of those who might be reluctant to buy online may be more inclined to buy after being able to see and touch a machine.
"The first steps with Wal-Mart looked like they were testing the water a bit, but they seem to believe this is the way they need to go," Kay said.
Two Kinds of Green
Dell may yet roll out more retail partnerships, but is likely taking time to consider the impact of each deal on its brand rather than rushing into partnerships that could dilute its brand image, Gartner analyst Martin Reynolds told the E-Commerce Times.
HP machines are already sold at Staples as are laptops from several other vendors. Staples also has the advantage of having millions of small office and home office customers, Reynolds added.
Dell has shown signs of stabilizing its market share — its shipments grew 3.5 percent in the third quarter, compared to last year, though HP sales rose some 30 percent — but is facing fresh competition from a surging Apple as well, the analyst noted.
Dell also said that Staples would become a partner in its push to become more eco-friendly. The PC maker said recently it will push to become carbon-neutral by the end of next year and said Staples would become part of Dell's "Plant a Forest for Me" initiative, which is designed to offset the carbon created in the production of a PC. Staples will also offer free technology recycling in conjunction with a Dell purchase.