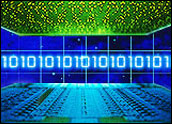 The database market will see lots of activity during the 2010-2011 time frame as nearly 60 percent of organizations move to upgrade or expand existing and legacy networks.
That statistic comes from new ITIC survey data, which polled 450 organizations worldwide. Not surprisingly, the survey shows that longtime market leaders Oracle, IBM, Microsoft and Sybase will continue to dominate the DBMS market and solidify their positions.
Databases are among the most mature and crucial applications in the entire network infrastructure. Database information is the lifeblood of the business. Databases directly influence and impact every aspect of the organization's daily operations, including relationships with customers, business partners, suppliers and the organization's own internal end-users. All of these users must have the ability to locate and access data quickly, efficiently and securely.
The corporate database must deliver optimal performance, reliability, security, business intelligence and ease of use. It must also incorporate flexible advanced management capabilities to enable database administrators (DBAs) to construct and oversee a database management system (DBMS) that best suits the organization from both a technology and business perspective.
What will distinguish the DBMS market this year is that the always intense and vociferous vendor rivalries will heat up even more over the next 12 months.
There are several pragmatic reasons for this. Most notable is the fact that many organizations deferred all but the most pressing network upgrade projects during the severe downturn over the past two-and-a-half years. Many businesses now must upgrade their legacy database infrastructure because it's obsolete and is adversely impacting — or will shortly impact — the business.
Anytime a company decides on a major upgrade, there's always a chance that it may switch providers. The DBMS vendors know this and will do their level best to lure customers to their platform, or at the very least get a foot in the door.
Another factor that looms large in the 2010 DBMS market dynamics is Oracle's purchase of Sun Microsystems. That acquisition finally got the green light from the European Commission last month. Speculation abounds as to the fate of the MySQL, which is a popular and highly regarded Open Source DBMS.
For the record, Oracle executives stated publicly within the last two weeks that the company would continue to support and develop MySQL and even provide integration with other Oracle offerings. However, users are uneasy because MySQL does compete to some extent with some Oracle products. Expect rivals, particularly IBM and Microsoft, to aggressively capitalize on user confusion and fear to entice users to their respective platforms.
The DBMS Vendor Landscape
The four major DBMS vendors — Oracle, IBM, Microsoft and Sybase — account for 90 percent of the installed base, unit shipments and revenue.
Oracle's 11g is the undisputed market leader. It offers a full slate of online transactional processing (OLTP) as well as specialized database applications. As such, it is being assailed from all sides and with relish by rivals who take every opportunity to criticize its products and strategy. Oracle, headed by Larry Ellison — one of the most visible and outspoken high technology CEOs — happily reciprocates with its own vitriol.
IBM's DB2 9.5 for Linux, Windows and Unix remains firmly entrenched in high-end enterprises owing to its rock solid reliability, performance, management, scalability and overall data and application integration capabilities. Users are also loyal to the DB2 platform because of IBM's strong after-market technical service and support offerings. IBM also secures its position within very large enterprises by giving good deals and discounts on licensing renewals, training and support.
Microsoft's SQL Server 2008 has shown tremendous improvement in scalability, security, ease of use, programmability and application development functionality, and it is gaining ground particularly among SMB and SME organizations. Microsoft hopes that the increased functionality of SQL Server 2008 will enable it to erode Oracle's very entrenched presence among enterprises. A big plus for Microsoft is its legion of committed resellers and consultants, who do an excellent job of promoting SQL Server 2008 among SMBs and SMEs.
Cost, Interoperability and Performance
Battles for DBMS upgrades and new installations will be fought — and won or lost — on three main factors: interoperability, cost and performance/features. The latest ITIC survey data found that nearly 90 percent rated interoperability with existing or planned infrastructure as the most important factor weighed when choosing a server vendor; while 80 percent chose cost as a main DBMS influencer and 78 percent cited performance as their main reason for choosing a specific DBMS vendor platform.
Still, any DBMS vendor that hopes to dislodge or supplant a rival in an existing account will have to work hard to do so. The ITIC survey data also shows that organizations — especially large enterprises — do not readily or often forsake their legacy platforms. According to the survey data, 76 percent of survey respondents indicated they had not migrated or switched any of their main line of business applications from one database platform to another within the past three years.
This statistic makes a lot of sense. Precisely because DBMS platforms are among the most mature server-based applications in the entire enterprise, it's much more work to rip out one platform and start fresh. A wholesale switch from one platform to another requires significant capital expenditure monies. Additionally, the business must also invest a lot of time and energy in converting to a new platform, testing new applications and rewriting scripts, as well as retraining DBAs and getting them certified on the new environment. For CIOs, CTOs and IT departments, this prospect has roughly the same appeal as having a root canal without novocaine.
Nonetheless, one-in-five survey respondents — 20 percent — did migrate database platforms over the past three years. The most popular reason for switching DBMS platforms, according to the survey respondents, was a move to a customized in-house application developed by a partner. Just over half — 53 percent — of responding organizations that changed DBMS platforms came from mid-sized enterprises with 500 to 3,000 end-users — a fact that favored Microsoft SQL Server 2008 deployments.
Among the 20 percent of ITIC survey respondents that switched vendors, fully 50 percent of organizations swapped out Oracle in favor of SQL Server, while 17 percent migrated from Sybase to SQL Server. Overall, among the 20 percent of respondents that switched database platforms over the past three years, two-thirds (67 percent) opted to migrate to SQL Server. In this regard, Microsoft SQL Server converts outpaced rival Oracle by a 2-to-1 margin.
Approximately 34 percent of the 20 percent of businesses that changed database platforms migrated away from DB2 or SQL Server in favor of Oracle.
IBM DB2 users were among the most satisfied respondents; an overwhelming 96 percent stayed put.
Customer Issues and Chief Challenges
Respondents cited challenges with their database strategies, but they were sanguine about the journey. For instance, one respondent said that the main challenges were "keeping up with changes to the SQL platform and getting our database administrators and appropriate IT managers trained and recertified on new versions of the technology and then figuring out how it all works with new virtualization and cloud computing technologies. Cost and complexity are also big factors to consider in any upgrade. Networks are getting more complex, but our budgets and training are not keeping pace."
Respondents were particularly focused on the cost issue: "Cost, both new licensing and annual maintenance"; "increasing cost of licensing"; and "cost is the overriding factor" were just some of the responses.
As for future plans, a 56 percent majority of respondents reported that switching database platforms in the coming months was very unlikely; 17 percent said it was not an option to switch, and 15 percent said that switching was a possibility, depending on the circumstances.
Getting organizations to change DBMS platforms is difficult but not impossible. If a rival vendor can offer concomitant performance and functionality, coupled with tangibly better pricing and licensing renewal options that lower total cost of ownership (TCO) and speed return on investment (ROI), organizations may be induced to make the switch. The biggest DBMS battle is in the SMB, SME sectors and for greenfield accounts that are adding new databases.
DBMS vendors are anxious to keep their current customers and gain new ones. End-users should make their vendors work to keep them as satisfied customers. Dissatisfied customers should voice their concerns, and satisfied customers should let their vendors know what they can do to make them even happier.
---
Laura DiDio
is principal at
ITIC
, a research and consulting firm that covers the high-tech industry.