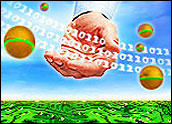 They're invisible to most online shoppers, but analytics programs that are combing through every click they make are dictating what their shopping experience looks like.
Thanks to a proliferation of easy-to-use and affordable — even free — analytics programs, a growing number of merchants are using data mining feedback.
Merchants are utilizing the information to tweak their advertising spending, to adjust how they present merchandise for sale and to change, in some cases in nearly real time, their promotions, prices and discounts. Data mining may dictate where on a page a product is displayed, how much it costs and a host of other factors.
In fact, some merchants say any e-tailer not using analytical feedback is likely missing enormous opportunities to boost conversion rates, lower pay-per-click ad costs and, in short, make more money.
Essential Information
"Tracking to a merchant is as important as the instruments on a plane to a pilot," Tom Bianco, CEO of Centripetal Management, which runs several niche e-commerce sites such as eGiftBasketsToGo.com and AtlantaCarsInc.com, told the E-Commerce Times. "If you are not tracking, you are flying blind," he added.
As a keyword advertiser on Google, Yahoo and elsewhere, Bianco uses the free analytics programs offered by the search sites and has found ways to cut ad spend while driving up conversion rates — and increasing revenue.
From Amazon to the smallest e-tailer online, data mining is becoming as much second nature to merchants like Bianco as keyword advertising and the impact on the online shopping experience is difficult to overstate.
Boosting Conversion Rates
Bianco has found the free analytics tools — especially Google's — easy to use and has made a commitment to testing different approaches to find what works, he noted.
For example, a popular product on one of the company's wedding favor sites is bride-and-groom flip-flops.
Eager to boost conversion rates, Bianco used the gained data feedback to tweak its keyword usage on the product, in one case adding a negative qualifier — specifically the word "pink" — and only targeting its ads in cases when the exact keyword was searched for by the user.
In each case, the click-through rate rose dramatically, jumping almost 28 percent in the case of the exact target word and a full 80 percent when the negative qualifier was used.
"Because we increased our click-through rate and quality score, our cost per click went from 75 (US) cents a click to 39 cents," Bianco. "We try to do the same thing over and over again for different products, and then change the offers and track the changes."
Every click-through is watched from the time a shopper reaches the site until he or she makes a purchase or clicks away, Bianco stated.
Multivariant testing is done almost continuously. Questions like, "Do more people click on this item if I move it up above the fold or does it decrease if I move them down?" are constantly being tested out. When people leave the site without buying, Bianco carefully analyzes the departure point.
"We want to know why they are leaving and where they came from initially," he noted, adding that the testing and data feedback is paying off. "We have quadrupled our conversions since our inception and we have raised our click-through-rates to as high as 50 percent in some cases."
Abandon Shop
For many merchants, a key step toward capitalizing on data mining is to full automate the data collection and processing steps, Sandeep Walia, president of e-commerce business intelligence software solutions provider Ignify, told the E-Commerce Times.
From there, the collected front-end data can be connected to a back-end ERP (enterprise resource planning) system, and the data can become far more valuable. Ignify, which lists Giant Bicycles and Aerosoles among its customers, makes solutions that work with ERP tools from Microsoft and others.
"Once mid-market companies start using data mining and the analytical feedback, they quickly get hooked on it," Walia noted. "There is some resistance, because they are used to doing things in a certain way. But once they start, they see a lot of possibilities.
"Some changes might be obvious. For instance, if a large number of shoppers are abandoning their carts when they get to the page that details shipping costs, it might be an indication that shipping costs are too high. Making adjustments in a situation such as that could dramatically improve conversion rates. Rather than making a dollar or two on shipping, e-tailers might increase conversion rates by 15 or 20 percent and that may be much more valuable financially," Walia stated.
While analytical feedback can help confirm known trends, "Sometimes you get intelligence you don't even foresee," he added. One Ignify customer found that a certain pair of shoes was suddenly selling better in a different color than had been the most popular in the past. It turned out the wave of buying was tied to a recently released movie and once the merchant recognized what was happening, they made a price adjustment and "started selling a lot more," Walia said.
Private Parts
Nevertheless, if there's one persistent criticism or concern about data mining, it comes in the area of privacy. The more data a merchant retains about its shoppers, the more likely it is to have data that it can associate with an individual — particularly if that shopper becomes a buyer and shares details such as credit card numbers and home and e-mail addresses.
Even when businesses vow — through their own privacy policies, for instance — not to share that information or when they pledge to only use the information collected in the aggregate, privacy advocates say the simple fact that click paths and origination points are being recorded and stored raises worries.
For instance, a persistent worry is that a government agency will ask to see such records, or that a database containing them will be hacked.
Some 153.5 million customer records that could lead to identity theft have been compromised in data breaches since early 2005, Beth Givens, director of Privacy Rights Clearinghouse, told the E-Commerce Times.
Some security experts have suggested using encryption to enable truly anonymous data analysis — computer programs could still spot trends, but without the researcher having access to the core personal data.
It seems certain, however, that more and more data will be mined and more creative analysis will be done to help merchants and advertisers predict what will make browsers into buyers.