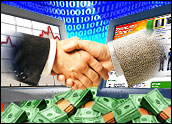 Overall, the deal between Intel and ASML is pretty straightforward: Intel agreed to commit about US$1.0B to ASML R&D programs to accelerate deployment of new technologies for 450mm microprocessor wafers and extreme ultraviolet lithography(EUVL) by as much as two years.
The company also agreed to buy 10 percent of ASML shares for approximately $2.1B and committed to buy another 5 percent of past-transaction shares for roughly another $1.0B.
Bottom line: Intel provided one of its main technology partners a $4.1B shot in the arm for what amounts to a minority stake; not an inconsequential sum at a time when major, full-blown IT acquisitions can be had for similar or even smaller costs. So what was the point of Intel's sizable investment, and what does each company stand to gain?
CPU Cost Reduction
To that end, it's important to remember ASML's position in the global semiconductor market. Headquartered in the Netherlands, the company is a major manufacturer of the photolithography machines used in the mass production of integrated circuits.
ASML owns about two-thirds of the global market for photo lithography machines, according to some estimates, but the semiconductor industry is brutally cyclical. Consider that in December 2008, ASML suffered a drop in sales that led to the layoff of about 1,000 employees, and the company applied for support from the Dutch government to avoid further reductions.
Then, just over two years later, in April 2011, ASML announced record-high revenues. In other words, Intel's investment will provide ASML a welcome cushion from the market's feast/famine vicissitudes and help guarantee the development of critical next-generation technologies.
What are those critical technologies? 450mm wafers and EUVL. The former promises to more than double the surface area of existing 300mm wafers (and the number of chips produced). Vendors like Intel that can make good use of this massive increase in production should enjoy significant improvements in economies of scale.
Plus, as 450mm wafer production ramps up, it should put pressure on common 200mm wafer technologies and the vendors that depend on them.
Brian Krzanich, Intel's SVP and COO, highlighted the role Moore's Law plays in the 450mm investment equation, noting that previous wafer size transitions led to a "30-40 percent reduction in die costs." Translation: helping ASML 450mm wafer production machines succeed should result in a major drop in Intel's cost of producing CPUs, whichwill translate into improved sales, profits, share value and competitive positioning.
Nudge Toward Maturity
The play around EUVL is a somewhat larger and riskier. Though it has been around for some time and ASML reportedly began shipping non-prototype EUVL machines to customers last year, the technology requires considerably more energy and time to perform etching tasks than do standard immersion lithography solutions.
In other words, EUVL is far from ready for prime time.
Intel described the portion of its investment dedicated to EUVL as "incremental," with the total about half of what the company is dedicating to 450mm wafer R&D. So it seems reasonable to qualify Intel's support of ASML's EUVL effort as aimed at bringing a promising technology to a state of maturity where it can effectively impact commercial production processes.
No Visible Sweat
That brings us to the bigger picture here: Just as the IT industry loves to yap on about the benefits of innovation, consumers tend to fixate on whatever shiny new thing arrives at market. But getting from the dull here and now to a glistening, magical future typically demands one hell of a lot of practical, hard work in materials science, design, manufacturing and production.
In essence, successful vendors are a bit like ballet stars — displaying levels of sheer grace on stage which, when successful, never hints at the months and years of grueling effort required to look effortless.
Dancing at the edge of what is technologically possible with the goal of probable commercial development is never easy, but it is a process that Intel has succeeded at time and again. For that reason, it's likely the company's investment in ASML will deliver significant long-term benefits to the companies and their legions of partners andcustomers.