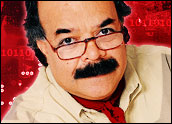 Contrary to branding beliefs, customers are completely oblivious to a corporation's image being tied to a specific color. In fact, trying to use a color for corporate identity can actually lead to trouble.
For example, Orange Mobility, a British mobile phone company of France Telecom, is one of the largest telephone players in Europe. As a gimmick, the company painted an entire town in England orange. Now, Orange Mobility, fully drenched in the color orange, is asking courts to disallow Easymobile, a new mobility service, the use of the color.
Easymobile is a division of Easygroup, and it, too, has been soaked in orange for more than a decade as a part of its parent's preferred color. The founder of Easyjet — high profile entrepreneur Haji-Ioannou of Easygroup — will fight back, claiming his corporate right to use the color orange as a branding strategy.
End of the Rainbow
So now a colorful fight breaks out, and the arguments will all end up in a punch bowl.
Can great teams of lawyers claim exclusive rights to a color and attempt to convince the courts? Yes. However, in reality one cannot own the exclusive global rights to a specific color.
In the long run and at the end of the rainbow, a single corporation can't own trademark rights to a single color, just like it can't own a single number or a single letter of the alphabet. Imagine if only Ford were allowed to have blue cars. Or if the number seven exclusively belonged to Walt Disney — then there would be nothing between six and eight. Similar is the alphabet: "W" is only for Westinghouse? Come, let's join the fight.
Think of the color blue, and what often comes to mind is a blue ocean. A blue sky, perhaps? Sometimes, it may be Big Blue, or IBM.
IBM truly acquired a secondary meaning with its legendary position of being recognized by a color. After all, it was a great army in blue suits that pushed forward its towering blue mainframe computers.
This corporation being recognized by a single color represents a very small chapter in the long history of branding. Today, blue is the most common color used in corporate business and liberally used by all types of technology companies. This is why Dell Computer's logo and many thousands of other computer-related businesses are in blue. IBM never went to court on this issue.
This fight over orange has two issues: One, the use of the word "orange," and two, the use of the color of the fruit. The linking of the two makes a unique combination, but not a guarantee for a global restriction on use of the orange color by anybody else in telephony.
Orange Mobility will have a nightmare on its hands if the company decides to go global. It knows that well. The situation is like a bank in Japan called Tomato, also using the word along with a designated red color. But can Tomato bank stop all banks in Japan from using the color red? No.
Fruity Branding
There are two reasons why this issue over orange is going to court: One, an overly fruity branding strategy, and two, the overly zealous legal wits.
The odd origin of the word "orange" comes from "naga ranga" in Sanskrit. According to a seventh century B.C. incident, apparently one day an elephant was passing through the forest when he found a tree unknown to him in a clearing, bowed downward by its weight of beautiful, tempting oranges. The elephant ate so many oranges that he burst. Many years later, a man stumbled upon the scene and noticed the fossilized remains of the elephant with many orange trees growing from what had been its stomach. The man then exclaimed, "Amazing! What a naga ranga (fatal indigestion for elephants)!"
Decades ago, in the age of technological scarcity, to be identified by a specific color or even called by that name was considered a great corporate image coup. Today, it has no value. While big corporate identity firms have clearly run out of unique, powerful names, they are now desperately trying to support weaker and poorer names with a specific color theme as a calling device to identify a corporation — corporate identity, by a single unique color, that is.
With red, blue and yellow as primary colors, how far can you go in reminding customers to differentiate among 100 million brands? Will "Pink Magenta" or "Dark Cherry Black" be the new highly exclusive and protected corporate colors? In this scenario, courts would be swamped over the slight change in a shade or a tint. It might be great for a short publicity stunt and some huge legal costs, but practical? No.
The color brown is a new calling device for UPS, the United Parcel Service. "Brown makes me happy." Really?
In another example, Pepsi recently introduced a blue-colored soft drink in a Pepsi bottle called Pepsi Blue — maybe as a counter attack to Vanilla Coke, a dark colored coke with vanilla flavor. Unfortunately, to some, Pepsi Blue looks more like Windex or 2000 Flushes. The marketing of blue fluids has often been associated with sanitation products, even when it comes to mouthwashes, like Clorox and Listerine in blue. There is also blue, green and purple ketchup these days. So what's next?
Conflicting Considerations
Yellow is considered to be for the soft at heart and the timid, but then there are the useful Yellow Pages. Also Yellow Freight, a gigantic freight company of strong men on the super highways. Who knows?
Green thoughts are often reserved for money, grass and vegetables, but sometimes, for The Ghostbusters or the Green Party, which is for the environment (and flush with green money).
H&R Block, the tax preparing giant, is now clinging to a green block as its image and its exclusive color. Perhaps it wants to be recognized as a Green Bloch [sic]. Henry Bloch correctly picked the name of his company as H&R Block to avoid spelling and pronunciation problems. When he appeared as a spokesperson with his correct name, it caused confusion, and to correct the whole thing, he simply changed his own name to Block. Well done, the consumer thanks you for this easy spelling of Block, Mr. Bloch.
The use of color as a name or to identify a corporation is far too stretched. The customer, at large, is somewhat color blind to these branding tactics. Customers are already recovering from the awkward, dumb and, at times, obscene names from the wild branding era of the last dot.com bubble: PurpleFrog, PurpleCow, PurpleDog, PurpleRhino, all the way to BlueFrog, BlueCow, BlueDog, BlueRhino, etc. These poor animals were subjected to much verbal abuse and named in just about every color of the rainbow, almost creating possible strikes at the local zoo.
A specific color cannot motivate the customer to alter his perception of a branding connection. Every time you come in contact with the color brown, wouldn't you prefer to think of a chocolate bar, rather than calling UPS or hugging one of their delivery guys on the road? Every time you see green, do you really think of money, the IRS or just grass?
Name-Driven Economy
If naming corporations by color is really that important, then perhaps a lot of corporations should simply be called Red — red in embarrassment, blushing or simply for bleeding too much red ink, or pink, if cleared by the SEC, and rosey, if on the rebound.
Logos and big color schemes are things of the past, yet they are used more for packaging designs. In today's e-commerce age, where everyone is forced to type and to remember names with perfectly correct spellings, companies with big branding campaigns only hurt themselves with their old-fashioned, painted, colorful advice. They must all reconverge and regroup and realign their thinking to cope with today's name-driven economy.
For now, it is best to leave the pretty colors of the rainbow in the sky.
---
Naseem Javed
, author of
Naming for Power
and also
Domain Wars
, is recognized as a world authority on global nameidentities and domain issues. Javed founded ABC Namebank, aconsultancy he established a quarter century ago, and conducts executiveworkshops on image and name identity issues. Contact him at
[email protected]
.
---