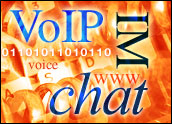 High-speed Internet access provider Covad has announced it will roll out Voice over Internet Protocol (VoIP) services to its business and consumer customers. The company noted that, following market trials planned for mid-2004, the rollout will start by the fourth quarter in most of its Metropolitan Statistical Areas (MSAs).
In conjunction with the announcement, Covad CEO Charles Hoffman said his company is in a unique position to participate in this burgeoning market because of its nationwide broadband network. According to Hoffman, Covad's network reaches 45 million businesses and homes, and its infrastructure is already designed to support VoIP.
"While many VoIP competitors are forced to deliver a best-effort service over a third-party broadband network, we have the ability to guarantee the quality of our voice service from end to end because Covad owns the network," he said. "Unlike other VoIP providers who might leave it up to the end user to install and support this new technology, we offer turnkey solutions."
Service Offerings
Covad plans to offer three VoIP options directed at its business customers: Basic Voice, Small Office/Home Office (SOHO) Voice and Virtual PBX (private branch exchange).
All three products will offer unlimited local calling; a choice of bundled domestic long-distance minutes or unlimited long distance; local number portability; directory assistance; and 911 calling. In addition, the products will be able to offer international and inbound toll-free calling.
Covad said a consumer VoIP offering likely will follow on the heels of its business services launch. The company also plans to bundle VoIP functionality with its broadband Internet, Web hosting and corporate e-mail hosting services.
Lisa Pierce, vice president for U.S. telecommunications at Forrester Research, told the E-Commerce Times that Covad is positioning its offerings at the lower end of the mid-size business market that its T1 services target. According to Pierce, Covad's retail presence is minimal, with less than 500,000 lines out of the 20 million broadband lines in use in the United States.
Wholesale Improvements
Covad's business is primarily wholesale, with such customers as AT&T, Sprint and MCI using its services, Pierce added. By serving these large companies, Covad enables them, in turn, to serve the smaller offices of their large enterprise customers.
"The problem has always been with small sites, not large ones," she said. "The large ones get all the support and functionality they need. The small sites, the branch offices, are like the shoemaker's children."
Steve Lail, vice president for voice services at Covad, told the E-Commerce Times that his company is in a unique position to provide wholesale customers with a choice of either tier-1 VoIP functionality and support services — a complete turnkey VoIP solution — or high-speed broadband service that can be provisioned for those customers' own VoIP solutions.
He also said he sees Covad's new services as a way for the company to increase its retail presence. Covad is offering a slew of features for its end users, including some traditional telephony services and other features that have not been typically available. Lail said he believes the key attraction of VoIP is its ability to integrate all these feature sets and make them available to all of a company's business customers. Covad's primary focus is on achieving this integration within a business environment, boosting efficiency and leading to productivity gains, he noted.
Step in Right Direction
For her part, Pierce said Covad's move to roll out VoIP services is definitely a step in the right direction. The main questions now, as with other recent announcements of competing services from companies like SBC Communications, are: What exactly do these services consist of? How attractive are their price/performance ratios and capabilities? Overall, how robust are these first-phase solutions?
"These are version 1.0 offerings, and it's not typically until version 1.5 or 2.0 that things start to become interesting," Pierce said. "It's too soon to say if Covad will be any different."