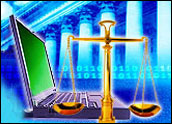 German police raided 51 booths of companies suspected of showing pirated products at electronics show CeBIT 2008, which runs through Sunday in Hannover, Germany.
More than 180 police and customs officials participated in the swoop. They removed 68 cartons filled with devices, documents and advertising material.
The devices that were allegedly in violation of patent were MP3, MP4 or digital video players, DVD players, and blank CDs and DVDs.
Twenty-four of the booths were set up by companies from China; 15 by companies from Taiwan or Hong Kong; nine by German companies; and the rest by companies from Poland, the Netherlands and Korea.
Where the Trouble Began
The raid was conducted at the request of Sisvel, the Societ Italiana per lo Sviluppo dell'Elettronica, German police said. A member of the Italian Association for Industrial Research, Sisvel was founded by engineer Roberto Dini, and has been developing and managing new patent licenses in consumer electronics for 25 years.
Throughout 2007, Sisvel focused on enforcing the MPEG audio patents that it licenses to major American companies such as SanDisk and to Aigo and Huawei Technologies in China.
The company enforces exclusive worldwide rights to aspects of the MP3 and MPEG file formats on behalf of large companies including France Telecom and Dutch manufacturer Philips.
It has participated in CeBIT for several years.
"Creating an understanding and information about the tenets of intellectual property by protecting and managing the patent holders' rights is one of Sisvel's primary objectives," CEO Gian Antonio Pancot said.
Sisvel has expanded operations in Hong Kong and the U.S., and added new subsidiaries in Tokyo and Germany.
Are We Safe?
Enforcement activities are a little less spectacular in the U.S., and trade show attendees won't have to duck for cover as a rule.
That's because the U.S. is "better at keeping things out and preventing the need to make raids," intellectual property attorney Marc Hankin, principal at Hankin Patent Law, told the E-Commerce Times.
"Customs will stop things at the border and not let them in if you notify them in advance," he said.
The raids on the booths at CeBIT could have been a strategic and tactical move, Hankin said. "A lot of civil lawsuits are served at trade shows because they can locate the people involved. Typically, these people are hiding and are hard to find, but when they're at a booth in a trade show, it's easier to identify them."