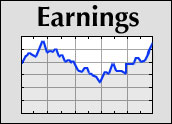 Comcast, the largest U.S. cable operator, today posted a third-quarter profit on better-than-expected gains in high-speed Internet customers and raised its full-year outlook for subscriber growth.
The Philadelphia-based company added 549,100 new high-speed Internet customers in the third quarter, well ahead of aggressive Wall Street estimates of about 475,000.
Morgan Stanley analysts Richard Bilotti, Megan Lynch and Benjamin Swinburne wrote in a research note that they had expected high-speed data-net additions of 439,600. "We believe the better-than-expected results were largely driven by [an] increased high-speed data footprint. From 4Q 2003-2Q 2004, Comcast added almost four million new HSD homes."
Profits Hampered
Comcast's third-quarter net income was US$220 million, or 10 cents a share. A year earlier, net earnings were $3.18 billion, or $1.41 a share, including a one-time gain of $3.29 billion, or $1.48 a share, from the sale of its stake in the QVC shopping channel.
Profits were cramped by the cost of courting new customers in the face of stiff competition from satellite television operators and telephone companies, however.
Comcast spent about $30 million in the quarter to attract back-to-school college students; it added 100,000 more customers than it expected. These customers are expected to generate about $50 million in revenue per year.
"That's a pretty good trade-off, one we'd make again," said Comcast chief operating officer Steve Burke.
Higher Sub Expectations
Comcast raised its target for full-year high-speed subscriber net additions to a range of 1.6 million to 1.7 million, up from an earlier forecast of 1.5 million to 1.6 million.
Brian L. Roberts, chairman and CEO of Comcast, also raised the full-year outlook for subscriber growth, anticipating high-speed Internet subscriber net additions of between 1.6 and 1.7 million, an increase from original guidance of between 1.5 and 1.6 million net additions.