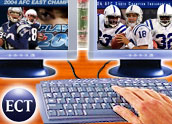 On Sunday, the Indianapolis Colts, the team with one of the most potent offenses in the history of the National Football League, will face off against defending Super Bowl Champion New England Patriots, ending a week's worth of hype and predictions.
As the game unfolds on the field, the owners of both teams can feel certain about one outcome: Their Web sites will be able to pick up just about any blitzes sports fans can throw at them. Both teams have turned over the management of content delivery from their sites to third party provider Mirror Image of Woburn, Massachusetts.
"A lot of people are going to be watching and we know that they're sitting in their living rooms with their laptops connected to the Web," Mirror Image Vice President of Marketing Jeffrey Schutzman said. "We know that at some point there's going to be a big, immediate slam on the pro shop or somewhere else on the Web site."
Different Infrastructure
"Anyone can put up a Web site, but handling tens of thousands or millions of visits in a short time — you're talking about a different infrastructure," he explained. "And if you don't provide a consistent, quality experience, your brand suffers."
The Patriots came to rely on Mirror Image as they made two runs through the playoffs in the last three years that ended with Super Bowl victories, each of which brought its own set of traffic spikes and online pro shop buying sprees.
For the Colts, that recognition came more recently — as the 2004 regular season wound down and quarterback Peyton Manning approached and broke Dan Marino's single-season record for touchdown passes, the Colts site was suddenly being deluged with traffic from all over the world.
As Schutzman tells it, the Colts sought help from the NFL, which referred them to Mirror Image. Within two days, the company was providing additional bandwidth and content delivery services to the Colts.
While there's no shortage of metaphors for how sports translates to real life, this time it's an easy sell, Schutzman says. The team that falters Sunday will see its season end. And companies that rely on the Web to communicate or sell to their customers can likewise face elimination if their site is unavailable.
Offensive Line
Mirror Image is one of several content delivery intermediaries that promise to handle the ebbs and flows of Web traffic, a space also targeted by Akamai Technologies, Cable & Wireless and others.
Analysts say Mirror Image has differentiated itself first through its patented approach to handling traffic flow and more recently by focusing on delivery of media-rich content such as streaming video.
Schutzman said another selling point for his firm's services is the ability to withstand denial-of-service attacks and keep content flowing even when servers are being bombarded with data in an attempt to bring them down. In fact, some of its customers use the service just to gain access to the network operation center that Mirror Image operates.
"I'm not going to say it couldn't be done, but it would have to be a very significant attack to bring our network to a halt," he said.
Outside of the sports world, Sears & Roebuck is a customer of Mirror Image, as are a number of other e-commerce firms, including Burton Snowboards and Pacific Sunwear. It also handled both the traditional Web site and the streaming video for the recently awarded X Prize, the US$10 million bounty paid for the first private space travel.
Fourth and Goal
The ability to handle the unexpected is also a selling point, for sports teams and others. Mirror Image helped the Firestone company handle a flood of traffic to its site when a massive recall of its tires was announced, setting the company up with additional network capacity in a matter of hours.
This weekend, however, all eyes will be on the football games. Schutzman plans to be watching, and although he'll keep an eye on the Web operations, he's not too concerned.
"It'll start to get busy around Friday and Saturday and then on Sunday right up to the game, during and after, there'll be all kinds of traffic," he said. He suggested that New England fans will likely flood the Indianapolis site to get stats on players they don't know well, and vice versa.
Once the game has been decided, if history is any guide, the winning team will hear the virtual sound of online cash registers as fans rush to buy merchandise.