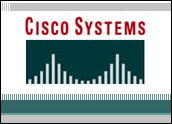 Internet and wireless networking gear maker Cisco Systems posted better-than-expected profits for its third quarter, but issued a forecast that disappointed some analysts and investors.
Cisco beat both earnings and revenue targets from analysts, with revenue up 18 percent to US$7.32 billion as consumer and business demand for its networking gear increased, and as it began to reap benefits of recent mergers. Cisco posted earnings per share of 22 cents, a penny above forecasts.
Building Momentum
"Our business momentum is actually increasing," CEO John Chambers said during a conference call with analysts.
Despite the strong report, some focused on a more conservative forecast for the fourth quarter and for the next fiscal year, which begins in July. Analysts were split on whether the outlook was the result of Cisco being conservative or whether there was weakness in its sales outlook.
Investors took the latter view, with Cisco shares down nearly 3 percent in midday trading Wednesday to $21.10. The stock is up nearly 30 percent in recent months on acquisitions and other moves meant to diversify its product lineup.
Still, the results seem to suggest that some of Cisco's recent moves have paid off and that businesses are again investing in networking gear more heavily after a long period of stagnant growth.
The quarterly results were impacted by acquisitions, with the numbers including two months of sales through Scientific-Atlanta, the set-top box maker that Cisco acquired earlier this year in a deal worth $6.9 billion — a play meant to give Cisco a role in the convergence of Internet and television.
Convergence Ahead
Cisco said in a conference call it would invest heavily in ramping up its sales staff in the coming quarter, and as a result, would see somewhat lower profit margins on some products.
The company added that the new sales hires would be focused on emerging international markets and those trained to sell to small and mid-sized businesses, an increasingly important market for Cisco's wireless and wired networking products.
CFO Dennis Powell noted that without the Scientific-Atlanta sales factored in, Cisco still saw 12 percent organic sales growth. "We are pleased with how we are executing against our plan for long-term growth," he said. The set-top box maker contributed about $400 million worth of sales during the quarter.
Among product lines, data-networking switch sales were up 13 percent and now make up some 37 percent of total revenue. Internet router revenue was comparatively flat, rising just 5 percent, with Cisco citing weak sales to telecommunications providers in Europe as one explanation.
Cisco's per-share results were also boosted by its stock buy-back program. The company said it purchased about 60 million of its own shares, worth about $1.2 billion, in the quarter and has over the last three years bought back some 1.8 billion shares, worth more than $32 billion. Cisco said that trend may start to reverse itself as employees begin to exercise more stock options because of the significant price gains seen in recent months.
New Outlook
Cisco is in the midst of a transformation that is meant to keep it at the top of the networking gear pyramid, and give it greater reach into consumer applications. Just as its 2003 purchase of Linksys made it a major player in the home wireless networking field, Cisco is banking on Scientific-Atlanta making it a player in home video, whether it's distributed by cable companies, phone companies or over the Internet.
It is also positioned well competitively, with longtime rival Nortel Networks still bogged down by past accounting scandals and other issues.
Cisco's buy also filled a gap in its product offerings that could help it lock in more sales for its switches, routers and other back-end gear, though whether carriers will want to trust all of their infrastructure to a single vendor remains to be seen, Gartner analyst David Willis said.
"Cisco views the home video market as critical to its future growth," Willis told the E-Commerce Times. "That acquisition should result in platforms that will enable service providers to offer more services to consumers and that could drive sales."
Higher costs, including the expanded sales force, may prove a drag on Cisco's stock, according to Goldman Sachs analyst Brant Thomson. However, in a research note he still predicted shares could rise as much as 15 percent during 2006 as t Scientific-Atlanta integration continues to pay dividends.
For observers trying to take the pulse of the tech industry, Cisco's results seemed to contrast a profit and sales warning from Dell computer. Dell said price cuts it and competitors have made will cause its quarterly results, to be announced next week, to come in lower than earlier expected.