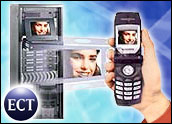 As MP3 players revolutionize the portable music device landscape, video download services and device makers are hoping the digital transition will spread from audio to visual presentations. A pair of announcements today from CinemaNow and MediaPass Network set the stage for what content providers and device manufacturers are hoping will become another niche market in the mobile arena.
CinemaNow has forged alliances with Warner Music Group and TVT Records to sell music videos on a download-to-own basis via a newly launched service, WatchMusicHere.com. A new music video download service from MediaPass provides portable content for Windows Mobile-based devices.
Microsoft plays a part in both deals.
Watch Music on the Go
WatchMusicHere.com will offer music videos from multiple genres ranging from classics to the latest chart-topping videos. Each video will be available for prices ranging from $1.99 to $2.99 for a permanent copy that can be viewed an unlimited number of times on traditional PCs and laptops as well as Microsoft's Windows Mobile-based secure devices like Portable Media Centers, Pocket PCs and select Smartphones.
"We are thrilled to be working with the record labels as they explore this promising new revenue stream, and we are equally thrilled to be working with Microsoft's Windows Mobile division to continue to provide valuable content for their innovative product lines," said Bruce Eisen, president of CinemaNow.
Microsoft Pushes Trend
Meanwhile, MediaPass is also delivering videos that can be played back on Windows Mobile-based Portable Media Centers and select Smartphones and Pocket PCs, putting Microsoft smack dab in the middle of this emerging trend.
"With Portable Media Center devices from companies like Creative, Samsung and iRiver and new Windows Mobile-based Smartphones, music fans will be able to take their favorite music videos from their favorite acts with them anywhere and enjoy them anytime," said John Pollard, director of Windows mobile services and applications and services marketing for Microsoft Corporation.
Analysts Skeptical
Analysts, meanwhile, aren't seeing a clear market potential for such download services.
Phil Leigh, senior analyst with Inside Digital Media, told the E-Commerce Times that there is certainly a market for streaming video services. He points to Yahoo's Launch Media as a pioneer in the streaming video space, and smaller players like Free-Music.com and iMesh also offer streaming music videos. But Leigh does not see a major benefit for downloadable services.
"If you are going to watch the video at your computer there's really not a big need to download it," he said. "And Launch Media is free. It's advertising-supported. Why pay for a downloadable video when you can get it for free?"
Moreover, Leigh said he's not convinced that consumers really want portable devices that play music videos. Portable devices may be all the rage for digital music, but video is a different medium, with viewing screens that are typically "the size of an index card," he said.