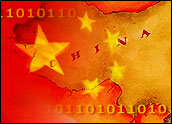 From New Zealand to India, worldwide tech media is buzzing with headlines about China cracking down on thousands of Internet cafes. In a market that has some 87 million Internet users — the world's second-largest population of Netizens after the United States — the implications on e-commerce have far-reaching effects.
China has shut down 1,600 Internet cafes and fined operators a total of US$12 million this year as part of its campaign launched in March to reduce or eliminate sites that portray pornography, violence or other materials that Communist leaders have banned.
"Porn, gambling, violence and similar problems have adversely affected the healthy development of the Internet in China," Xinhua news agency quoted Zhang Xinjian, deputy director of the Culture Ministry's marketing department, as saying.
In addition, the Culture Ministry ordered 18,000 Internet cafes "to stop operation for rectification" during its inspection of 1.8 million shops. Unlicensed operations and those that let children play violent games, along with pornography, were two prime targets.
Impact on E-Commerce
"When you shut off access to that many people, it definitely slows down progress," Heather Dougherty, retail analyst with Nielsen/NetRatings told the E-Commerce Times. "This could have a huge impact in terms of how China progresses in e-commerce. It's certainly another hurdle."
Of course, it's not only a hurdle for China, say analysts, but it is also a hurdle for those U.S. companies looking to expand into this foreign market. EBay and Yahoo are two such companies.
EBay started its ingress into China two years ago with the incremental purchase of player EachNet. EBay invested $180 million in two bond transactions that left it with sole ownership of the site that has 6.9 million users who traded $63 million of goods in the second quarter.
EachNet has cornered about 65 percent of China's online auction market, worth an estimated $232 million last year, according to eBay EachNet officials.
Many Hurdles
Meanwhile, Yahoo has undertaken a joint venture with Chinese online media company Sina and Taobao.com to compete with the leading online auctioneer.
The Chinese Internet cafe crackdown is not good news for either player, or other e-commerce companies seeking to cash in on Asia's buying population.
"China is one of the countries where a lot of players have been looking to expand," Dougherty said. "But there are so many hurdles with the government policing everything so it isn't going to be a quick and easy road. This crackdown will definitely shut off some opportunities for American companies."