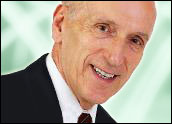 In today's ever more challenging business climate, CEOs are pressured to handle multiple tasks, each of which might be critical to the long-term success of the company. If the CEO takes his/her eye off the ball for even a short length of time, other competing tasks might go undone to the detriment of the corporation.
The list of duties for an active CEO is so broad that it is no wonder some of the CEOs with whom I talk complain about the seemingly impossible task of keeping up with everything.
I realize that a competent CPA firm and competent attorneys can help alleviate some of the pressure that the CEO feels, but the fact is, under many circumstances, the CPA and attorney simply cannot be all things to the executive — nor should they be.
This explains why there has been an explosion of CEO advisory firms. In so many cases, the executive can't do without some outside advice. He/she often has too many urgent tasks to deal with.
Competing Executive Responsibilities
Which tasks are demanding so much of the executive's time and attention? They include a broad range of subjects such as merger and acquisition strategies, divestiture strategies, union negotiations, dealing with a possible strike, the discovery of in-house fraud and troublesome litigation, to name a few.
---

Listen to Ted di Stefano (7:44 minutes)
---
Because there are so many possible distractions for the CEO, I will go into detail with only a few of these, the ones that I feel are most common and most critical.
Crisis Management
I've owned over 20 businesses and have come to realize that no matter how hard you try to attend to everything, crises do happen, even to the best of us. A crisis can come in the form of a product failure, a takeover bid by hostile stockholders or a sudden cash crunch, just to name a few.
This is why, as burdensome as it may seem, your company should have a crisis plan in place to meet all foreseeable situations. To assist you, in the event that you do not have such a plan, please see my article entitled "Crisis Management: Is Your Company Ready?"
Adequacy of In-House Financial Controls
I have seen situations where, seemingly, everything is going smoothly and all of a sudden the company is out of cash. Although I personally feel that this should be a rare occurrence, I have seen too many situations where experienced businesspeople have been caught by surprise with a cash flow crunch.
How can you avoid this? Let me tell you, as an example, about a company that I owned a short time ago. My weekly payroll was over US$100,000. My fear was that some week I wouldn't have enough money for my payroll.
The way that I solved this problem was to have my controller draw up a rolling 2-month cash flow projection that was updated and changed, if necessary, on a weekly basis. The bottom line was that I always met my payroll.
You can avoid this type of panic by being sure that you have at your fingertips certain financial reports, controls that warn you on a current basis about impending problems. These controls can range from cash flow projections, to ongoing monitoring of your production pipeline, to warnings about delinquencies in your accounts receivable. The list is endless, but very important.
Debt Consolidation and Recapitalization
There are times when no matter how hard you've tried, you find yourself in a chronic cash-flow dilemma, perhaps with the prospect of facing a bankruptcy — always the last resort.
Your solution to this type of problem could lie in a recapitalization of your company wherein you may have to give up some control. Another solution is some type of debt consolidation whereby a new lender is brought in and the old debt is retired by the new lender.
The final solution, as unpalatable as it may seem, is to place your company in bankruptcy. If this situation unfortunately comes about, you need some sharp advice as to what type of bankruptcy will enable your company to survive while you remain a major player in it.
Choosing Your Board of Directors
Even if your company is not publicly held, you may very well have a board of directors. In fact, there are many privately held companies that technically don't need a board but have one anyway. That is because the owners realize how important outside, independent advice is.
Sarbanes-Oxley (SOX) has made a competent board absolutely critical for a publicly held company.
The point is that good corporate governance, whether for a private company or a publicly held one, is a necessity that cannot be avoided.
To give you some idea of the many facets to picking the right board, please see my article "Choosing Your Board of Directors."
Strategic Planning
Why do you need a strategic plan? Is it really necessary? Well, the following example might convince you.
Over the years, I've done quite a bit of sailing. I would never think of going out for a cruise without a well thought out sailing strategy with a map as my guide. I also used to fly airplanes. It would have been unthinkable and irresponsible of me if I ever left the ground without a specific, well thought out flight plan.
So, the same can be said of guiding your company through the turbulence that inevitably occurs. A good CEO advisor should be able to help you develop a competent strategic plan that you follow as a matter of routine.
The CEO Can't Do It All
As much as we think that we can efficiently handle multiple, competing tasks, this is not always the case. Outside help, if not frivolously sought, can provide you with the expertise that you need in order to bring the greatest amount of value added to your company. A good CEO advisor should bring something else to the table: objectivity and perspective.
Remember the major areas listed above that could potentially present stumbling blocks for you in your efforts to ever improve your company's well being. You may not want, or need, an advisor for each of them. However, if you do, be sure to choose the one who will best meet your company's needs.
Good luck!
---
Theodore F. di Stefano
is a founder and managing partner at
Capital Source Partners
, which provides a wide range of investment banking services to the small and medium-sized business. He is also a frequent speaker to business groups on financial and corporate governance matters. He can be contacted at
[email protected]
.
---