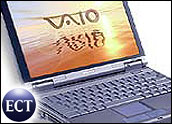 Mobile computer users have always accepted that their devices were only mobile in the sense that they could be taken from one wireless access point to another. Accessing the Web at any point in between — in other words, over most of the globe — was problematic at best.
However, with the release of the Vaio T350 notebook in May, Sony began a bid to change that by building in cellular technology that gives the notebook the ability to access the Web using a traditional wireless phone network, which covers a vastly broader area than traditional WiFi.
The notebook carries an internal modem designed to work with the EDGE technology deployed across the national network of Cingular Wireless.
Competitive Scramble
The move could have significant ramifications, and analysts say limitations — including being tied to a single mobile carrier — might keep uptake slow at first. However, in the long run, cellular access might be just one way that computer users get to the Web with their laptop computers.
In fact, just days after Sony and Cingular debuted the T350, PC maker Dell was said to be considering moving into the cellular world, possibly by offering mobile phone subscriptions. That move would be a logical prelude to selling machines with built-in cellular modems that could access those wireless subscriptions.
Analysts note that cellular access is already possible with the use of PC connectivity cards as well, which could dampen demand for new, out-of-the-box machines with hefty price tags.
Still, because of the clout of Sony and Dell, others are likely to scramble to match the offerings, IDC analyst Roger Kay said. "We can expect to see a lot more of this," he added.
Cost Hurdles
Because the machine itself and the data services that it uses are fairly expensive — the notebook starts at around US$2,200 and the data services run $80 monthly — analysts see business users as the likely first adopters of the Sony approach. But could it be very long before we're all using laptops that can access the Web from virtually anywhere?
Kay told the E-Commerce Times that competition is likely to help drive down costs somewhat and could make the service more attractive in the long run to both corporate and consumer users.
One factor that could drive more PC makers to include the cellular option on machines is the advantage it has in terms of generating revenue and profits. Many have struggled with how to make WiFi profitable, with mixed results.
Many hotspots are operated for free as a perk for using a local Starbucks, for instance, or as an amenity offered by hotels and airports. While pay-to-access WiFi use is gaining, it has not taken off as some had predicted.
Business Users
That could leave an opening for the approach Sony is taking with the T350. And it's one that wireless carriers will likely pounce on because it offers an opportunity to make use of data networks already in place or on the drawing board to drive new revenue.
"Carriers would love to get a piece of the mobile computing action," telecom analyst Jeff Kagan told the E-Commerce Times. "The networks to handle it well are still being built, but carriers want to be in a position to capitalize on any trend that technology might spark."
Business users in particular have already shown a strong willingness to pay to access data, as is evidenced by the Blackberry hand-held e-mail device.
In fact, if it gains traction, the Sony approach could make the laptop or, analysts say, more likely ultra-portable devices such as the Tablet PC, contenders for ubiquitous use, though most still have their money on smartphones dominating mobile data and voice use in the future.
Speed Kills
The notebook has the advantage of having a larger screen and a full-size keyboard, notes Gartner analyst Ben Wood. Smaller devices have long been seen as having limited functionality by comparison.
"Anyone who's ever written out a long e-mail message on a hand-held knows the difference," Wood told the E-Commerce Times. "Device makers are constantly trying to keep devices portable but give them more functionality. There's a tension there."
Perhaps the biggest drawback of the cellular approach is speed, in two senses. First, wireless access on existing cellular networks will typically be slower than WiFi moves.
Second, because wireless networks are constantly changing both in terms of ownership and in terms of technology — faster in fact than most people use up their personal computers — users might be reluctant to be tied to any given carrier or technology for a long period of time.
In other words, a Sony T350 buyer would have to hope Cingular continues to offer the best service for years to come, no matter where he or she goes. To underscore the point, analysts note that the technology would already be incompatible with the faster UMTS technology Cingular is now rolling out nationwide.
It's also possible that other approaches might still emerge. While satellite access was once touted as the next big thing, it has not taken off. Meanwhile, Bluetooth and similar technology already enables laptops and cellular phones to communicate with one another, bridging the access gap when away from WiFi spots.
Wait and See Approach
For that reason, analysts believe many buyers, both business and consumer alike, will wait and that an open standard that enables users to sign up for cellular service is the most likely approach to win.
That probably won't be as popular with wireless carriers, who will have to fight for customers rather than have them locked in when they purchase their computers. However, it will offer more choice, which is the bottom line when it comes to mobile computing.
"Before long, people will have more options for access than they do even today," Kay said. "There's no question things are moving in that direction."