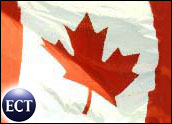 The Canadian government has proposed several copyright amendments that would serve to crack down on file sharing, preventing Internet users from freely swapping music, books and movies online.
"This is terrific news," said Canadian Recording Industry Association President Graham Henderson. "Canada is one step closer to having a copyright law that will reflect the realities of the digital marketplace and allow the music industry a chance to prosper. We want to thank the government and the opposition parties for their support in getting to this stage."
Proposed Amendments
Proposed amendments to the country's Copyright Act include legislation that would implement the provisions of the 1996 World Intellectual Property Organization Treaties, clarify liability for Internet service providers, facilitate the use of the Internet for educational and research purposes, and harmonize the treatment of photographers with that of other creators.
"We are pleased to have this opportunity to show Canadians how we intend to build a copyright framework for the 21st century," said Liza Frulla, Canada's Minister responsible for Status of Women. "We must strengthen the hand of our creators and cultural industries against the unauthorized use of their works on the Internet."
Copyright Law Impact
Pew Internet and American Life Project director Lee Rainey told TechNewsWorld that laws do have an impact on file swapping and so Canada is taking steps that could have real effects on consumer behavior. His organization's studies show that Recording Industry Association lawsuits in America have resulted in a decline in illegal file sharing.
"Before the first lawsuits were filed in the U.S., a lot of people believed that what they were doing must be legal because if it weren't legal someone would stop it," Rainey said. "After the suits, a lot of people adjusted their behavior and their sense of risk."
Still, said Rainey, there are worldwide renegades who will continue to make digital files available despite laws prohibiting the practice, and it's difficult to enforce a law when the servers on which the file sharing originates are outside your border.
"We are in a struggle now where copyright holders are using the best tools they can think of — technology, marketing and legal measures — to battle back against the free sharing of their property, and yet there are those who think that a lot of this material should be freely available, so they are adjusting the technology to make it that way," he said. "It's an ongoing battle."
Fight Continues
It's also an ongoing process to strengthen copyright laws. Government officials said while they recognize the significance of the Internet as a learning tool for teachers and students as well as a platform for creators to disseminate content, enabling the educational use of publicly available Internet material has proven to be a complex and contentious issue.
Government officials said the proposed amendments represent a significant step in the ongoing process of updating copyright law, but consultations on additional issues of concern will take place as soon as possible after the bill is tabled.
"The Internet provides an incredibly powerful new means of communications, research, education, innovation and entertainment," said Minister of Industry David Emerson. "A balanced copyright framework will help to support the use of the Internet to foster innovation and learning, while establishing stable and predictable marketplace rules."