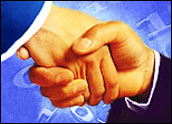 Online superstore Buy.com and eBay-owned Half.com announced Monday the creation of a joint marketplace that will sell used CDs, videos and DVDs from both companies.
The co-branded site, dubbed the "Entertainment Marketplace," is slated to launch during the first quarter of next year. The cooperative venture will integrate Half.com's used and new entertainment-oriented products with similar offerings from Buy.com.
Dual Promotion
Half.com will spotlight Buy.com as a featured seller throughout its site, while Buy.com will feature Half.com in its Partner Center.
Buy.com customers will also be able to sell used CDs, videos and DVDs through the new marketplace.
"This agreement is significant for both companies because it represents a way for us to use the power of our virtual operating models and offer our customers a variety of brands," said Buy.com chairman and chief executive officer Greg Hawkins.
September's PCData Online said both companies are ranked among the top 10 shopping sites on the Internet.
Fixed-Price Format Growing
Half.com is a fixed-price, person-to-person electronic marketplace that lists almost seven million previously owned products at over half off the list price.
Founded in 1999, the Conshohocken, Pennsylvania-based company was acquired by eBay earlier this year for $350 million (US$) in stock.
eBay President and CEO Meg Whitman noted that it would have been nearly impossible to duplicate Half.com's community of users, the real strength of the site.
"Half.com's fixed-price format complements eBay's current business by giving our existing users new choices for trading," Whitman said of the acquisition.
More Fixed Prices
During the release of its third quarter earnings report two weeks ago, eBay also said that it will be expanding Half.com's operations in the coming months, and added that other fixed-price platforms targeting businesses and government agencies will be rolled out in the future.
Industry analysts say that the fixed-price format, which Half.com employs, is becoming an increasingly popular Web auction niche.
Troubled Times for Buy.com
Aliso Viejo, California-based Buy.com has been striking online partnerships with various marketers to boost its faltering revenues. Earlier this month, the company — which sells entertainment products as well as sporting, computer and electronic goods — inked deals with online car businesses such as iMotors and CarsDirect.com to develop an auto center on its site.
In recent quarters Buy.com has reported falling sales, widening losses, and slower-than-expected customer growth. A report earlier this year from Forrester put Buy.com on a list of companies that would have to achieve astronomical sales growth to stay afloat in the face of mounting losses.