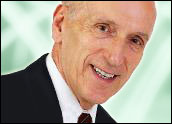 Competition for building a profitable Web site is quite fierce. Yet many of us have dreams of a unique concept that will attract viewers, followed soon thereafter by advertisers. I'm not sure what percentage of aspirants succeed in this quest, but I would venture to guess that it's a very low percentage.
With the evolution of the Web to the Web 2.0, the task becomes even a bit more challenging. For those who aren't familiar with the term Web 2.0, Wikipedia can help out: "Web 2.0 is a living term describing changing trends in the use of World Wide Web technology and Web design that aims to enhance creativity, information sharing, collaboration and functionality of the Web …" The complete definition also mentions video sharing sites.
Though the competition is fierce in the Web 2.0 space, it's encouraging to see a recently formed company quickly create critical mass, thus attracting advertisers and creating a cash flow in less than a year of operation. That company is As Seen On TV.Info, a privately held startup.
A Winning Business Model
It all starts with a winning business model. (Business models are discussed in my article for the E-Commerce Times titled "Why Startups Fail.") As Seen on TV.Info's (ASOTVI) business model is unique in several respects.
It creates side-by-side video viewing of an actual Direct Response Television (DRTV) product offered for sale with a critical review of that product. This capability leverages online video technology to visually contrast the major claims of vendor infomercials with reality. Additionally, it does this with a patent-pending, Web 2.0 approach that uniquely provides objective online "You Tube-styled" video reviews, posted in parallel (via Flash Video players) alongside product vendors' infomercials, thus allowing consumers to see for themselves what products can really do, and what they can't do.
You might wonder who will be advertising on this Web site. The CEO of the company, Robert Gelinas, told me that he will not accept any advertisement from a company whose product does not pass vetting. In other words, if the product doesn't work as advertised, ASOTVI will not accept advertising dollars from its manufacturer. He also made it clear that ASOTVI publishes negative reviews whenever warranted and that "no one gets a pass" with a review that isn't merited. He added that reviews are published at the company's discretion.
ASOTVI has found a unique niche for itself in that no other independent, objective review organization exists for what is one of the largest segments of the retail industry, DRTV. This segment is noted for its hype and exaggerated claims, as most TV viewers can attest.
An advantage to viewers who want to check on a product is that they can do so at no cost and without cumbersome registration. All they have to do is go to the site and check out the product, assuming that there is a review of the product of their choice.
Revenue Streams Are Important
Of course, a Web-based company needs a steady flow of revenue to survive. ASOTVI's business model calls for a cost-per-click (CPC) advertising model that comes from either a product's Review Page, a Run-of-the-Site (ROTS) campaign, or both. Additionally, the company will generate revenue through Cost-Per-Action (CPA) campaigns that flow through associated affiliate networks. Thus, ASOTVI generates revenues from product reviews, even if a product's vendor doesn't choose to commission an advertising campaign.
Gelinas noted that a significant part of the projected revenue stream of the company are the numerous retailers of both As Seen on TV products and competitive products. He then added that the site draws large numbers of visitors who have much in common, making them a targeted audience for retailers. As DRTV campaigns mature, the products are then picked up by mass market retailers who in turn feature select displays of As Seen on TV products appropriate to their own merchandising programs.
From my perspective, the retailers can state in their advertisements that, unlike television commercials, customers can see the actual products on display for themselves, along with a parallel review of same.
Getting Products to Review
There are so many products advertised in the DRTV space that one has to wonder how the company gets products to review. I asked this question of Gelinas. He told me that vendors actually send ASOTVI samples of their products which the company then reviews. ASOTVI thereafter produces 2-minute product review videos at no charge to the vendors.
The company has targeted consumer-related product companies and retailers. The greatest present interest in advertising on the ASOTVI site obviously comes from the companies whose products have been favorably reviewed. These companies commission advertising campaigns for their products.
Thus, each time that ASOTVI favorably reviews a product, it creates a potential advertising client. So long as that review stays on the company's site, the manufacturer of the product remains a potential, if not actual, advertiser. And, the more products that ASOTVI reviews, the larger its advertising clientele becomes. This advertising base will expand in the future, as explained above.
It is indeed a rare instance when a business can identify a niche, a vacuum, so well. This talent has enabled ASOTVI to create a critical mass of advertisers by reviewing (at no cost to manufacturers) company products, thus creating advertising revenue by posting video reviews on its site of actual products that have appeared on TV. And the video review, as mentioned above, is conveniently placed right next to the manufacturer's video of its product.
I went to the site and first looked at a manufacturer's TV advertisement of its product, then clicked on the review of the product to see if the claims matched up. I found browsing through the site and being able to get "both sides" of a product's story quite user friendly.
Web 2.0: An Attractive Opportunity for Tech Startups and Investors
With the Web 2.0 becoming so user friendly and drawing so much advertising revenue, it is no wonder that print media are in trouble. (See my article for the E-Commerce Times "Print Media vs. E-Media: The Battle Is On.")
So from my perspective, Web 2.0 is an attractive opportunity for tech startups and investors. Just look at ASOTVI and you'll see that opportunities abound on the Web 2.0.
Good luck!
---
Theodore F. di Stefano
is a founder and managing partner at
Capital Source Partners
, which provides a wide range of investment banking services to the small and medium-sized business. He is also a frequent speaker to business groups on financial and corporate governance matters. He can be contacted at
[email protected]
.
---