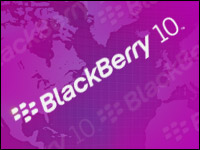 After a bumpy lead-up to the launch of its Z10 handset, BlackBerry surprised Wall Street on Thursday by reporting a profit for its fourth quarter ending March 2. That wasn't enough to offset its accumulation of losses, though; it reported a net loss from continuing operations of US$628 million for the entire fiscal year. In the previous year, BlackBerry had reported a profit of $1.2 billion.
It posted fourth-quarter revenue from continuing operations of $2.7 billion, down 36 percent from $4.2 billion in the same period a year ago. Its Q4 GAAP income from continuing operations came to $94 million, or 18 cents per share, down from $118 million, or 23 cents a share, in the year-ago quarter.
Analysts had expected the company to be in the red, down by as much as 29 cents per share. BlackBerry was able to carve out a profit through cost-cutting efforts that included making its supply chain more efficient.
It saw a decline in overall subscribers worldwide in Q4, losing some 3 million. Those were mainly customers with prepaid accounts, the company said.
Until the third quarter of its fiscal year, BlackBerry's subscriber numbers actually had been increasing, and it could soon see that trend take hold again as sales of its recently released Z10 handset ramp up.
BlackBerry shipped 6 million smartphones in the quarter, including about 1 million BB10 devices.
Crystal Ball Gazing
It's not altogether clear what the surprise swing to black actually indicates, but "it certainly is good news for BlackBerry," said telecommunications analyst Stephen A. Blum, president of Tellus Ventures Associates.
"It looks more like the result of tighter management than anything else, but there's nothing wrong with that — so long as market success follows," he added.
"The big problem, though, is in the subscriber numbers," Blum told the E-Commerce Times. "A healthy company doesn't show a net loss of customers in a market that's growing at better than 40 percent per year. Prepaid customers are important, particularly internationally. That's the consumer side of the market, which is increasingly driving the enterprise side of the industry."
BlackBerry declined to provide further details.
Stopping the Bleeding
The fact that BlackBerry had a good fourth quarter is especially notable because the company was then preparing for the release of its delayed BlackBerry 10 operating system and the introduction of compatible new handsets. The Z10, which began rolling out at the end of January, is the first device to run on this new OS. It is unclear how its sales will affect the company's momentum.
"It is not a surprise that BlackBerry is profitable, but the biggest fear might be that it is a dead cat bounce, created by the pent-up demand for the new device," said Roger Entner, principal analyst for Recon Analytics. "Right now they have only proven that their faithful want new ones. Let's see how many people want it in three to six months. This is way too early to talk about a turnaround."
Of course, the Canadian mobile smartphone maker does have a strong global reach. It remains a strong contender in Europe and parts of Africa, and even is the dominant handset in some markets. The key to its success could be in recapturing the U.S. market — or at least firmly holding the No. 3 spot behind Apple and Samsung.
Story Still Unfolding
"It is difficult to understand BlackBerry. They are doing well in some respects and not well in other respects," said telco analyst Jeff Kagan. "Outside of the USA they are stronger. However the USA is a key market, so they must do well here as well."
It would be easy to read too much into today's numbers, Kagan told the E-Commerce Times.
"The new BlackBerry 10 operating system and the new device, the Z10, are brand new," he noted. "They are just available for purchase in the USA in the last week from AT&T. What about the other carriers? They are going to start selling them as we speak."
The result is that the first several quarters could be good for the company as long-time users trade up. However, the growth rate for smartphones overall is diminishing, so attention is now focused more on customer retention and attracting new customers from competitors.
Market Growth
BlackBerry will have to make the most of its new OS and not make any further missteps if it wants to stay on a positive course. Even with the good Q4 news, there could be a hard road ahead.
"From 2011 to 2012, BlackBerry's global market share was cut in half, dropping below 5 percent," said Blum.
"BlackBerry needs to do more than just offset churn with the Z10. It needs to add 30 to 40 million net new subscribers just to maintain market share," he contended. "That means 50 million or more new subscribers total."
Given that the company has some 76 million subscribers, that sounds like a tall order. If BlackBerry's market share does continue to drop, it would put it in the same league with Windows and various flavors of open source handsets.
"That doesn't necessarily mean BlackBerry is doomed, but at best it relegates the company to a cash cow role, maximizing profits from a relatively stable customer base," added Blum.
"Heins needs to work magic with the Z10," he concluded, "and I'm not seeing that."