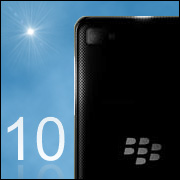 There may be a big red circle around March 22 on the calendars in BlackBerry's offices. That is when the company formerly known as "Research In Motion" will release its Z10 handset in the United States, widely regarded as a do-or-die effort.
The new touchscreen-enabled device will be available for pre-order on March 12 and will go on sale in AT&T stores and online on March 22.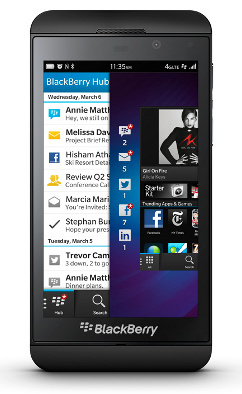 BlackBerry Z10
The BlackBerry Z10 will cost US$199.99 with a two-year contract and will be the first BlackBerry handset to operate on AT&T's 4G LTE network.
"Now we can see if this product has wings and will fly," said telecommunications analyst Jeff Kagan.
A BlackBerry spokesperson was not immediately available to comment for this story.
The BlackBerry Turnaround
In the wake of BlackBerry's launch of its BB 10 OS and the first handsets running it, which came after a long buildup interspersed with multiple delays, it is now down to what could be the defining moment for the newly rebranded company.
The Z10 is already available in certain international markets, but how it does in the U.S. will be key to the company's fortunes.
"BlackBerry is quite the story — full of good and bad decisions all along its path of the last few years," Kagan told the E-Commerce Times. "Five years ago they lead the smartphone space."
That was then. Now, Apple and Samsung dominate the U.S. market, and BlackBerry is competing with Nokia for third place.
"Last year, they finally realized there was a problem as their market share dropped like a rock," Kagan said. "They brought in a new CEO, CMO and others."
The question now is whether that new team and a new device can get the old customers — those who have embraced iOS and Android in the ever-evolving mobile space — to come back.
"Consumers understand iPhone and Android. They know they can get the apps and content they want," said mobile analyst Stephen A. Blum, president of Tellus Ventures Associates.
"They don't know that about BlackBerry, and it's going to take some one-on-one selling to educate them," he told the E-Commerce Times. "AT&T has the capability to do that, but it's not going to do it out of the goodness of its heart."
Carrier Push
A few years ago the iPhone swelled AT&T's customer ranks — initially, it was the only carrier of the handset. It is doubtful that the BlackBerry Z10 will have anything like the iPhone's allure.
"BlackBerry needs traction in the consumer market, and it needs a lot of help from carriers to do it," Blum added. "AT&T needs to push the Z10 in its retail channels if the launch is to make a genuine difference."
AT&T might have to take a loss to lure customers to the Z10 — and BlackBerry likely would have to ease that pain by further discounting the price to AT&T.
"BlackBerry has to discount the Z10's wholesale price so AT&T can incentivize its sales force and feature it online," Blum explained. "If BlackBerry gives AT&T enough margin to work with, then there's a chance to make the launch count. Otherwise, it's just one more phone in the display case."
Competition in the Space
BlackBerry offered a strong presentation back in January when the Z10 made its debut, including some unexpected star power from singer/songwriter Alicia Keys. Then the company practically went into a quiet period following its splashy event.
"The wave of excitement and anticipation created by the introduction a month ago has weakened considerably," said Kagan. "To make matters worse, Samsung will unveil their highly anticipated Galaxy IV this week, which will steal quite a bit of attention and ink that BlackBerry was counting on."
BlackBerry could continue to pay a high price for taking so long to come out of its cocoon, Kagan noted. The handset could still be successful for those who have waited for an upgrade, but whether others will be drawn to it is the bigger issue.
"Will BlackBerry win the No. 3 spot? That's the big question," said Kagan.