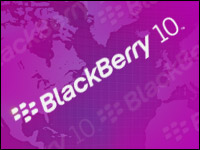 Goodbye, Research In Motion — BlackBerry came out of the smartphone hinterlands on Wednesday with a new name to go with a revamped OS that plays up multitasking, plus two new devices that take their cues from Apple and Android bestsellers. Though aiming to stay relevant in a touchscreen world, the mobile phone pioneer is also trying to keep its established user base happy with a physical keyboard option.
The company formerly known as "Research In Motion" (RIM) made its rebranding official during several launch events across the globe.
"RIM becomes BlackBerry," CEO Thorsten Heins told a New York City audience. "It is one brand, one promise. Our customers use BlackBerry, our employees work for BlackBerry, our shareholders own BlackBerry. From today, we are BlackBerry everywhere in the world."
While it will take much more than rebranding for the company to regain its position as the leading smartphone maker, Heins emphasized that BlackBerry is far from dead.
"This is one of the biggest launches in our industry," he added. "Today is not the finish line. It is the starting line."
Opportunities arose for BlackBerry to partner with another manufacturer or developer, Heins said. The company decided to focus instead on reinventing the platform. "We made the tough call to go it alone."
Multiple Form Factors
BlackBerry's decision to address both touchscreens and keyboards is an attempt to keep core users happy while acknowledging the success of Apple and Android devices, Roger Entner, principal analyst at Recon Analytics, told the E-Commerce Times.
"What is very encouraging is that BlackBerry is launching both a touch and a physical keyboard device. This will help to pacify their still entrenched base," Entner said.
"What BlackBerry showed this morning was solid technology that's ahead in some regards and more or less keeping up with the pack in others," said Stephen A. Blum, president ofTellus Venture Associates. "They have a full touchscreen phone, and they're keeping a keyboard model in play," he noted.
"That's probably a good idea, given that their best short-term hope is to re-energize their legacy institutional customers. Those are not the kind of buyers who stray far from their comfort zones. The improvements they've made to keyboard and touchscreen interfaces will be a big help," Blum told the E-Commerce Times.
"What the company formerly known as RIM have done here is reinvent their product range," said Ian Fogg, senior principal analyst and head of the mobile sector at IHS iSuppli.
"They've focused on creating a great software platform with a series of products. While the competition has focused on entertainment and apps, BB10 focuses on communication abilities and a multitasking interface," he pointed out.
Open Window
Given the fact that Microsoft did not score an immediate hit with Windows Phone, it could open a window of opportunity for BlackBerry to regain some market share while giving the company time to continue to regroup. That should please not only longtime users of BlackBerry, but also carriers.
"The carriers desperately want there to be a third ecosystem — a third OS," Fogg told the E-Commerce Times. "Otherwise they will find it hard to defend themselves from those leading suppliers."
It is also important to realize that BlackBerry 10's potential business is outside North America, Fogg added. "This is why BlackBerry is pushing this as a global launch."
Big Hurdles Ahead
Even with that global opportunity, BlackBerry won't have an easy go of it.
"A nice interface is not enough to entice the truly creative developers who prefer, by a large margin, to work on iOS and Android platforms," said Blum. "BlackBerry might have solid in-house software and standard apps and content from the usual suspects, but that appeals to IT managers who want to limit the scope of their network management problems."
BlackBerry also hasn't helped itself by hyping a large number of available apps, and then highlighting examples that may not entice mainstream users.
"The apps they showed are pretty ordinary and won't particularly appeal to the average consumer, let alone the young people who set the pace for everybody else," Blum added. "BlackBerry also has a problem with distribution. It isn't a force in the mainstream consumer-facing distribution channels. It gets some help from carriers and sells to institutional buyers, but it is completely swamped by the marketing efforts of Apple, Samsung and the other big manufacturers."
The big problem for the new, improved BlackBerry is that it may have spent too much time in the smartphone shadows, suggested Entner. "It isn't clear if the new devices and OS are superior enough to get people to switch back to them after they were dead in the water for so long."